---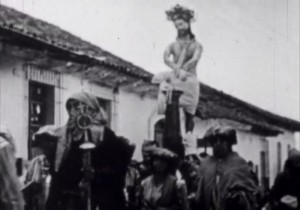 Date produced: 1942
Filmmaker(s):
Description:
""Wooden Face of Totonicapan" is a [1942] color film covering the art of making wooden masks in Totonicapan, Guatemala. The film was made under the auspices of the "Good Neighbor" film project, run by the Office of the Co-Ordinator of Inter-American Affairs in New York as part of the WWII war effort. It was produced by Ralph E. Gray." Periscope Film.
---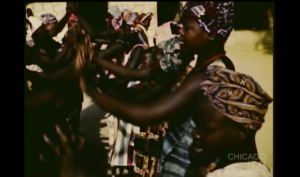 Date produced: 1947
Filmmaker(s):
Description:
"Silent film set in a small African village. The King takes his young son, the Prince, on a journey to teach him lessons on how to be a great leader by showing appreciation and care for the people they rule. The King guides the Prince to help care for the ill suffering from leprosy, learn skills like farming the land, making clothing and building shelter, and enrolls him in school to get an education and learn religion. The film shows many skills and medical processes of African villagers in detail from start to finish." Chicago Film Archives
---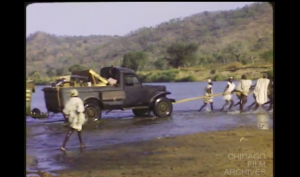 Date produced: 1947
Filmmaker(s):
Description:
"Details a journey from New York to Lagos and beyond the interior of Nigeria. Footage includes shots of daily traditional life in the village and concludes with a battle scene between two tribes brandishing spears and bows and arrows." Chicago Film Archives
---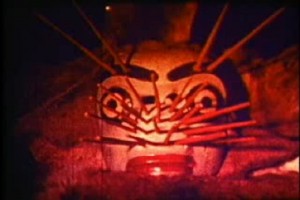 Date produced: 1953
Filmmaker(s):
Description:
"Mungo Martin demonstrates the making of a Bee Mask. Tony Hunt models the mask and provides a short rendition of the Bee Mask Dance" (Duffy, 140).
This film is also known as Mungo Martin Makes a Mask.
---
Date produced: 1961
Filmmaker(s):
Description:
"The simple ways of life are desired by most of us even in our struggle to get to some other place or environment. The Amish in Pennsylvania have managed to hold onto the good things of the land and simple ways of life. The skills and crafts of these people are brought forth as this film presents its story of their daily activities" PSA Journal, Oct. 1961, 48.
---
Date produced: 1950
Filmmaker(s):
Description:
"Our Friendly Enemies: This unique title has its origin in the fact that the Seminoles are the only native American Indians who have never signed a peace treaty with the government. Ralph E. Gray has chronicled in color with his 16mm Cine Special camera the contemporary life of the Seminoles living in Florida, picturing their activities against the backdrop of modern-day living and habits. Gray's reputation for camera and good editing has resulted in very professional results on the screen. Narration and sound effects on the recorded track round out the superior treatment of this better than average amateur effort." American Cinematographer, May 1951, 190.
---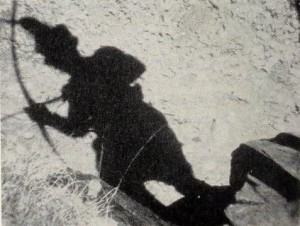 Date produced: 1950
Filmmaker(s):
Description:
"In The Barrier, Glen H. Turner, Maxim Award winner in 1949 with One Summer Day, shows that the excellence of that production was no happy accident. Although the two films are as different as night and day, both are instinct with the same qualities of creative imagination and true understanding of the movie medium. This year's production, as we understand it, is bi-lingual in its message. On the screen Mr. Turner tells a robust adventure tale, in which a wandering western horseman, attacked by unfriendly Indians, has to fight his way out of their clutches and (even more menacing) over the heart-stopping challenge of a great stone barrier to his freedom. Around this screen action, and carried by the narrative, the producer also draws a frame of universal reference to all of life's challenging struggles. Pictorially, the acting of the horseman is powerful and convincing, while Turner's camera treatment of his adventures creates a spine-chilling sense of danger and drama. Especially effective is the producer's handling of the Indians, whose menacing presence is suggested only — by moving shadows, braceleted brown arms or moccasined stealthy feet." Movie Makers, Dec. 1950, 466.
---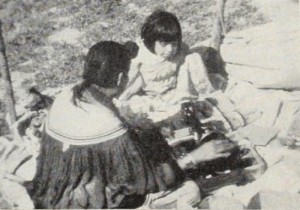 Date produced: 1949
Filmmaker(s):
Description:
"Florida's colorful Seminole Indians, who never have taken kindly to the white man's rule, generally are no more responsive to visiting filmers. Thus it is a rare and rewarding pleasure when an understanding amateur cameraman gains both their confidence and their cooperation. Such is the stimulating accomplishment of Elmer W. Albinson in his picture called simply Seminole Indians. Among the film's outstanding achievements are its detailed studies of the Indians' arts and crafts, its exceptional work in ultra closeups, and its pictorial probing of the Indian character and customs. An extraordinarily good musical score enhances the appeal of this informative ethnic documentary. The picture needs, however, a somewhat stronger ending, the present one impressing these reviewers as artistically indecisive." Movie Makers, Dec. 1950, 466.
---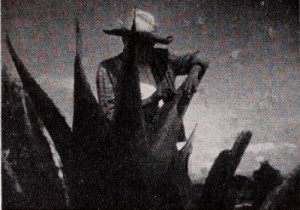 Date produced: 1948
Filmmaker(s):
Description:
"Alan Probert has confined his study of Mexico to the primitive Otomi Indians. With startling clarity and a fine cinematic eye for detail, he presents the tribal group in a series of sketches that reveal the age old customs of their forefathers still in daily use — sowing and reaping, spinning and weaving, trading and worshipping. Remnants Of The Past is an expertly filmed factual account of the subject, which would have gained considerably from greater unity and a stronger ending." Movie Makers, Dec. 1948, 494.
---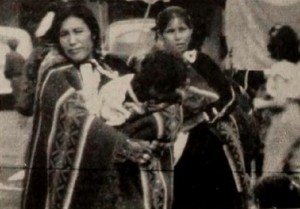 Date produced: 1947
Filmmaker(s):
Description:
"Edward F. Cross covered an extensive territory of national parks and vacation spots in the Southwest and Western sectors of the United States and has brought back an attractively filmed record of his tour. Unique rock formations have been pictured from well chosen vantage points to make the most of light and shadow. This Land of Ours is climaxed by particularly colorful units in a rodeo's grand parade and a dexterous camera handling of Indian dances. A full narrative indicates careful research to supplement the scenes on the screen." Movie Makers, Dec. 1947, 539.
---
Total Pages: 2