---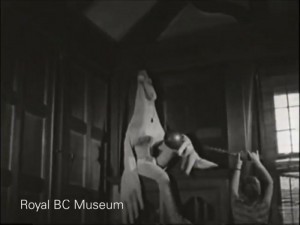 Date produced: 1947
Filmmaker(s):
Description:
"Produced as a gift to Dorothy Burritt's husband, filmmaker Oscar Burritt (who was working in Toronto at the time), this is an offbeat study of life at their Vancouver apartment -- suite 2, 1960 Robson Street. The camera explores the apartment and the household memorabilia, and Dorothy is seen sitting for a portrait by painter Peter Bortkus. Later some friends drop by for a screening of Sacha Guitry's film Pearls of the Crown, followed by a party. Among the guests are Moira Armour, film editor Maureen Balfe, UBC student Stanley Fox, photographer Peter Varley, and an unnamed figure wearing a bird costume. Most of the people shown would have been involved with the National Film Society of Canada (Vancouver Branch). Suite Two won honourable mention (amateur category) at the first Canadian Film Awards in 1949." (BC Archives)

The film was restored in 1986 by the British Columbia Archives.
---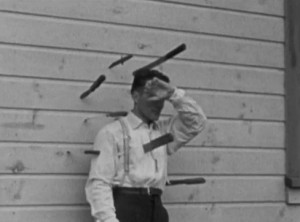 Date produced: 1938
Filmmaker(s):
---
Date produced: 1965
Description:
"Hazards, which won the MPD Club Film Award, centers around a man who would rather be by himself than entertain friends who are about to call. He commands his wife to tell them he is in Montreal, but by story's end he finds deception can be a rather embarrassing thing" PSA Journal, Sept. 1965, 51.
---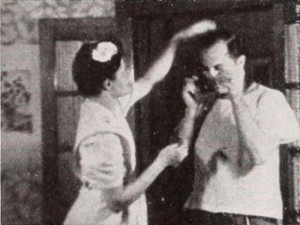 Date produced: 1944
Filmmaker(s):
Description:
"Werner Henze has shown in Bohemian Baloney that artists can make fun of themselves and their profession. An artist and his wife had planned to have a quiet evening at the movies when a telephone call warns of a visit by a wealthy prospective buyer of pictures and her meek husband. How the young couple suddenly transform their own characters and their tasteful and immaculate living room into a scene of "arty" surroundings is gaily depicted with just the right amount of farce. The compositions and lighting are excellent and there are gay, unexpected twists throughout, particularly when a self portrait of the artist comes to life." Movie Makers, Dec. 1944, 495.
---
Date produced: 1944
Filmmaker(s):
Description:
"Take a dog, a daughter and a pair of delightful parents, mix them together in a movie, and see what you get! If you get anything within striking distance of The Boss Comes to Dinner, then you have discovered the same secret that stamps indelibly this production by Ryne Zimmerman. It is the secret of good family fun, warmly presented and glowingly filmed. Here, in this delightful comedy, is a charming little imp of a girl, her absurdly performing pet and — lest we forget — a magnificent black monarch of the kitchen, all mixed up in a series of uproarious capers, as the poor boss and his wife "come to dinner." Mr. Zimmerman's camera work strides well along with his ability to plan and point up his comic developments. Produced all indoors, the film's lighting seems to radiate that intimate rapport and affection which bind together its happy family. The few titles are harmonious in design and clean in their execution. The Boss Comes to Dinner is a frolic of good fun and innate good taste." Movie Makers, Dec. 1944, 494.
---
Date produced: 1935
Filmmaker(s):
Description:
"Structurally sustained by only the slimmest of plot incidents, Dummy Walks Out is in essence an etude in cinematics, sparkling with brilliant photography and bravura with striking angles. An evening of bridge, consistently bad cards to one player and, in time, the dummy walks out — such is the simple scheme of this masterpiece in miniature. Throughout its brief footage, however, the producers, M. P. Gamber. ACL, and Walter Mills, ACL, have contrived a gleaming glossary of cinematic imagination which delights the eye and beggars analysis. Near shot, closeup and extreme closeup (in several scenes, a single playing card fills the entire screen) follow one another with graphic beauty. Dummy Walks Out is a brilliant answer to the timid souls who "alibi" that the Eights can't take it." Movie Makers, Dec. 1935, 534, 550.
---
Date produced: 1934
Filmmaker(s):
Description:
"Among the pictures awarded Honorable Mention is An Evening at Home, by Arthur E. Ojeda, ACL, a rare achievement in film planning — the family picture of interest outside the family. In it the father arrives home from his work and is greeted by the children. Soon, after the bedtime story, they toddle off upstairs, leaving the domestic stage clear for the grownups' dinner and the subsequently arriving neighbors. There follow a shaker of friendly drinks and a session of jigsaw puzzling after which the guests depart. The last lights go out and the film is over. Mr Ojeda's treatment of this theme is clearly sequenced, told without titles and mostly in closeups. Honorable mention was well deserved by the definite interest which he brought to the subject. With more perfect technical execution, an even greater honor might have been won by this family film." Movie Makers, Dec. 1934, 546.
---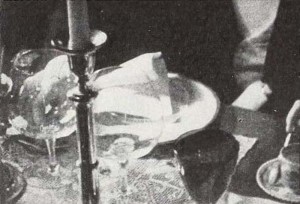 Date produced: 1932
Filmmaker(s):
Description:
"I'd Be Delighted To!, directed and photographed by S. Winston Childs, jr., ACL, is that kind of production often planned but seldom made — a film story told entirely in closeups. Presenting the simple incident of a dinner a deux in a gentleman's apartment, the picture runs through 400 feet of brilliantly chosen, strikingly filmed, significant closeups. It is adroit, amusing and sophisticated, and a splendid example of what, with skill and care, can be done in this distinctly advanced amateur filming method." Movie Makers, Dec. 1932, 562.
---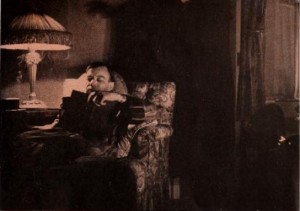 Date produced: 1932
Filmmaker(s):
Description:
"Among the ten best, The Last Entry, running seven reels 16mm., is one of the most ambitious amateur photoplays ever undertaken and completed. The plot, requiring many elaborate interior sets, is based on a mystery story that opens with a house party. While a room is darkened for the projection of amateur films, one of the guests is murdered and all present may be suspected equally. The detective handling the case uncovers the fact that the murdered man, an author, has lived on blackmail effected by threats of exposure through publication, which throws suspicion on several of the guests of the house party who were discovered to be his victims. However, in the end, the murder is solved by screening the same pictures that were on the projector when it was committed. Although this plot offered great difficulties in the direction of large group scenes, the creation of the necessary lighting effects and the interpretation of the actors' roles, it is beautifully and suavely handled. In the film are several lighting treatments that may be listed as among the most effective ever achieved by amateurs. One chase sequence staged through long corridors, a large, dimly lighted attic and on the roof of the mansion at night in the rain, can be likened only to the effects secured in the best professional mystery photoplays. James F. Bell, jr., ACL, was director with Charles H. Bell, ACL, and Benjamin Bull, jr., ACL, cameramen and Lyman Howe, ACL, in charge of lighting." Movie Makers, Dec. 1932, 537-538.
---