---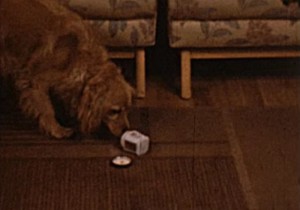 Date produced: 1945
Description:
A married couple is hosting another couple for dinner. Before the dinner, the husband gives his wife a container of "vanishing cream," which they both use believing it to be a skincare product. When the dinner guests arrive, people and pets that contact the cream vanish from sight.
---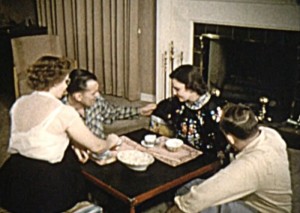 Date produced: 1954
Description:
A married couple responds to a newspaper ad seeking homes for foreign delegates visiting America. The couple receives the news that their guests are coming from Hong Kong, China, and they begin to alter their home and appearances to adjust to Chinese customs. However, when the delegates arrive, they do not meet the couple's expectations.
---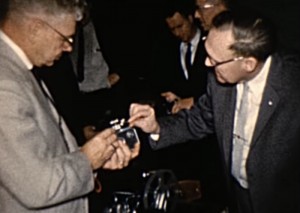 Date produced: 1961
Filmmaker(s):
Description:
The G.R.A.M.C. holds an open house on November 1, 1961. This film documents the event, showing amateur filmmakers dining, conversing with one another, and examining cameras.
---
Date produced: 1950
Filmmaker(s):
Description:
"Film about a surprise party at the Woodley residence." Library and Archives Canada.
---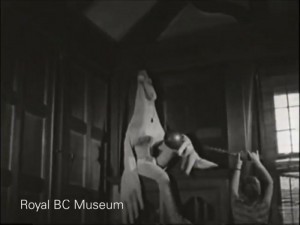 Date produced: 1947
Filmmaker(s):
Description:
"Produced as a gift to Dorothy Burritt's husband, filmmaker Oscar Burritt (who was working in Toronto at the time), this is an offbeat study of life at their Vancouver apartment -- suite 2, 1960 Robson Street. The camera explores the apartment and the household memorabilia, and Dorothy is seen sitting for a portrait by painter Peter Bortkus. Later some friends drop by for a screening of Sacha Guitry's film Pearls of the Crown, followed by a party. Among the guests are Moira Armour, film editor Maureen Balfe, UBC student Stanley Fox, photographer Peter Varley, and an unnamed figure wearing a bird costume. Most of the people shown would have been involved with the National Film Society of Canada (Vancouver Branch). Suite Two won honourable mention (amateur category) at the first Canadian Film Awards in 1949." (BC Archives)

The film was restored in 1986 by the British Columbia Archives.
---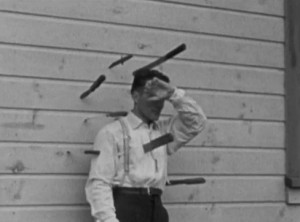 Date produced: 1938
Filmmaker(s):
---
Date produced: 1969
Filmmaker(s):
Description:
Jami is a black-and-white film about beautiful girls that are actually the International Playboys, a well known singing and dancing group of three young men, in seven minutes, Larry Zazelenchuk of Sudbury, Ontario, shows us how the boys make-up to be some of the prettiest girls you have ever seen. In their conversation during make-up in the dressing room the boys leave no doubt about the fact this is not another film about homosexuals. This is strictly show business, well filmed and, certainly, an unusual subject,"PSA Journal, Mar. 1970, 43-44.
---
Date produced: 1965
Description:
"Hazards, which won the MPD Club Film Award, centers around a man who would rather be by himself than entertain friends who are about to call. He commands his wife to tell them he is in Montreal, but by story's end he finds deception can be a rather embarrassing thing" PSA Journal, Sept. 1965, 51.
---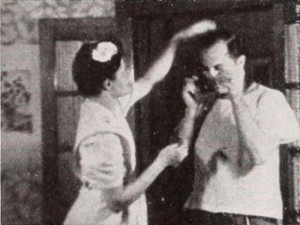 Date produced: 1944
Filmmaker(s):
Description:
"Werner Henze has shown in Bohemian Baloney that artists can make fun of themselves and their profession. An artist and his wife had planned to have a quiet evening at the movies when a telephone call warns of a visit by a wealthy prospective buyer of pictures and her meek husband. How the young couple suddenly transform their own characters and their tasteful and immaculate living room into a scene of "arty" surroundings is gaily depicted with just the right amount of farce. The compositions and lighting are excellent and there are gay, unexpected twists throughout, particularly when a self portrait of the artist comes to life." Movie Makers, Dec. 1944, 495.
---
Date produced: 1944
Filmmaker(s):
Description:
"Take a dog, a daughter and a pair of delightful parents, mix them together in a movie, and see what you get! If you get anything within striking distance of The Boss Comes to Dinner, then you have discovered the same secret that stamps indelibly this production by Ryne Zimmerman. It is the secret of good family fun, warmly presented and glowingly filmed. Here, in this delightful comedy, is a charming little imp of a girl, her absurdly performing pet and — lest we forget — a magnificent black monarch of the kitchen, all mixed up in a series of uproarious capers, as the poor boss and his wife "come to dinner." Mr. Zimmerman's camera work strides well along with his ability to plan and point up his comic developments. Produced all indoors, the film's lighting seems to radiate that intimate rapport and affection which bind together its happy family. The few titles are harmonious in design and clean in their execution. The Boss Comes to Dinner is a frolic of good fun and innate good taste." Movie Makers, Dec. 1944, 494.
---
Total Pages: 2