---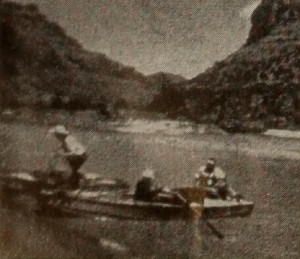 Date produced: 1953
Filmmaker(s):
Description:
"Louise M. Fetzner is a housewife who plainly likes the thrills of running the rapids down dangerous rivers while she makes movies that really move! In Green River, Mrs. Fetzner has a well paced, well photographed and altogether literate account of the adventures which she and her companions had on the Colorado's main tributary. The film is interesting and exciting, and tells its story concisely and without padding. The accompanying narrative is written and delivered effectively, although occasionally the level of the background music rises to overwhelm the narrator's voice." Movie Makers, Dec. 1953, 344.
---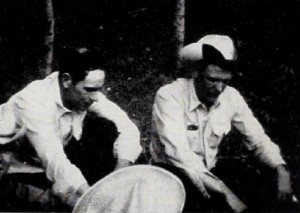 Date produced: 1951
Filmmaker(s):
Description:
"Seventeen hundred feet of 16mm. color is a lot of footage through which to sustain audience interest. But, so help us, that is exactly what Lester F. Shaal has done in Colorado Diary, and we don't quite understand yet just how he did it. Perhaps it was the diary-entry continuity device he used, which, with the entries being made in situ on a Colorado dude ranch, permitted a refreshing infusion of flash-back sequences amid the day-to-day activities. ("The flight out here was glorious," notes the attractive diarist, and some superb air footage lends variety to the routines of the corral.) Perhaps it was the side trips from the ranch to ghost mining towns — or to Durango and the narrow-gauge railway country. Whatever the secret, Mr. Shaal has mixed it well with his usually impeccable camera work. Seldom have the vitality and majesty of the West been portrayed more movingly than in Colorado Diary." Movie Makers, Dec. 1951, 410.
---
Date produced: 1951
Filmmaker(s):
Description:
"Waters Of Lodore - Unlike most letter carriers who go for a hike on their vaction, letter-carrier Morton and a party of friends set out on a boating adventure down the Colorado river during his 1950 summer vacation. Morton recorded the adventure from start to finish, and edited the footage into an absorbing documentary having many thrilling moments. Although the picture is a little slow getting started -the preparation and get-away sequences being somewhat overly- lenghty -the picture, once the boats get underway, is packed with interest and not a few thrills. It must have been a monumental job making movies on such an arduous journey, for it was often a tough enough job just to keep the boats afloat. Staging the boat action in the rougher waters required infinite patience and camera skill, but Morton has been rewarded with some excellent shots of his fellow-boatmen navigating the dangerous rapids. Morton shot the picture on 16mm Kodachrome at 24 f.p.s., hoping later to combine the narration on a sound print. At present, the narration is recorded on wire and synchronized with the picture." American Cinematographer, May. 1952, 224.
---
Total Pages: 2