---
Date produced: 1949
Filmmaker(s):
Description:
"A new illustrated lecture filmed on an amusing trip by bicycle through the isolated, unspoiled southwestern corner of Colorado." Pacific Union Recorder, Dec. 12, 1949, 4.
---
Date produced: 1944
Filmmaker(s):
Description:
"Sept. 1944 - 489 miles by Bicycle over the Rockies." UCLA Film and Television Archive.
---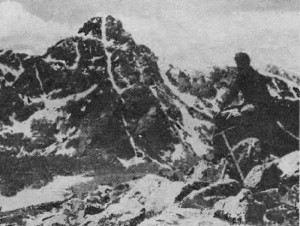 Date produced: 1958
Filmmaker(s):
Description:
"In a color chucklelogue Midgley will show spectacular pictures of Colorado today and give a nostalgic look into Colorado's colorful past. . . . The film features Denver, Pikes Peak, the Garden of the Gods, the Royal Gorge, Estes Park, ascent of Longs Peak, Trail Ridge Road, skiing at Aspen, and pictures of ghost towns and horseless carriages. Some of these pictures, filmed in excellent color years ago during the last days of the Narrow Gaugers, could never be replaced." The Clock Tower, Oct. 17, 1969, 1.
---
Date produced: 1962
Filmmaker(s):
Description:
"Down the Colorado River from Hite to the junction of the San Juan River in Colorado, via a power boat. This is a camping, sightseeing adventure in the deep canyons of the river. We are acquainted with the preparations for this trip Along the scenic canyon way of picturesque land and rock formations we stop to search out some of the birds, lizards, flora, and other life of interest to the nature lover. The placid and rugged beauty of this area contains some of the old Indian caves. From one of the campsites we go by foot to the famous Rainbow Bridge, a natural arch span of more than 300 feet. Canyons unlimited is an inspiration to those who love adventure" PSA Journal, Oct. 1962, 34.
---
Date produced: 1961
Filmmaker(s):
Description:
"The wilderness of Colorado where the visitor may wonder how the Indian can extract a livelihood from the dry, treeless land. To be sure, there are trees, and some with the raiment of ghosts, from which life long ago departed. The rugged Indian does eke a living from this waste, mostly from sheep, goats, weaving, and trinkets. The film is a record of these things in well chosen settings, including a desert storm" PSA Journal, Oct. 1961, 49
---
Date produced: 1959
Filmmaker(s):
Description:
"A diesel followed by yesterday's steam locomotives lay the contrasts for this journey to yesterday. Rio Grande's old seam locomotive 473 takes us from Durango to Silverton, Colorado, through the wild country where enroute we see things today as they were yesterday. Throughout this trip we feel the realism of the sound accompaniment, so tastefully a part of the picture. The maker of this film was well aware of the need to include people and human interest, and it did it well" PSA Journal, Nov. 1959, 48-49.
---
Date produced: 1957
Filmmaker(s):
Description:
"Winged Hickory on the high snow-covered slopes in the area of Aspen, Colorado (not far from Denver) is a nostalgic piece of winter ski sports by Theodore H. Sarchin. Aspen is a famous old, deserted silver mining town that has been rejuvenated by ski enthusiasts taking advantage of the excellent slopes and weather conditions. The ski lift is the longest in the world. It requires 40 minutes to ride its full length, in two sections, to an elevation of 11,300 feet. There are beginner and novice trails and challenging slopes for the experienced skier. There are vistas of the towering snow-covered mountains as well as activities in camp. During one of the Gala Days, Mr. Sarchin photographed some unusually expert skiers, such as one on tall stilts, and four men on two long skis, sort of like four men on a horse. The beauty and grace of the skiers, speeding along with the snow feathering out behind, make the rugged beauty of the terrain an outstanding picture. The background music is well chosen and Mr. Sarchin's narration is adequate" PSA Journal, Nov. 1957, 53.
---
Date produced: 1957
Filmmaker(s):
Description:
"Al Morton's "Wild Water and Bouncing Boats" takes us through Desolation and Gray Canyons on the Green River which flows into the great Colorado River. The Green River starts in northern Utah and joins the Colorado south of Arches Monument in Utah. The picture takes us down the Colorado as far as the Hoover Dam. The country abounds in desert and canyon scenery—to say it is spectacular is a display of modesty. There are canoes and other hand-powered craft on the turbulent rapids with upsets and the struggle to gain an island rock and the shore. There are craft equipped with outboard motors to drive it through turbulent waters and rapids. This film is packed with thrills for those who like rough water" PSA Journal, Nov. 1957, 33.
---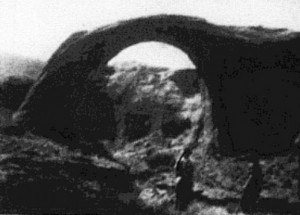 Date produced: 1954
Filmmaker(s):
Description:
"After years of seeing the rugged Colorado River conquered by small parties of adventurers as rugged as the river itself, O.L. Tapp has produced Land of the Rock Up Over, a film in which a party of perhaps half a hundred young men and women thoroughly enjoy a mass invasion of the river country in seven large rubber rafts and only one cataract boat. The charm of Mr. Tapp's capable but perhaps over-long film lies in the companionship, fun, and excitement that stem from the very size of the exploring party. Admittedly in the river passage from Hite, Utah, to Lee's Ferry the river's most dangerous rapids have been avoided. But who cares - the group had fun! Skillfully photographed and with an interesting narrative well-recorded on magnetic stripe, the film holds audience attention by its very competence throughout its considerable length" PSA Journal, Jan. 1955, 50.
---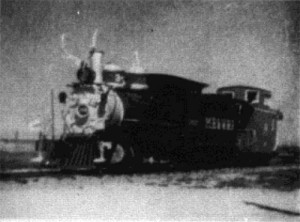 Date produced: 1954
Filmmaker(s):
Description:
"In Narrow Gauge Kingdom Roger H. Klatt presents an ambitious and highly successful documentary study of the rapidly vanishing narrow gauge railroads of the Far West—and of Colorado in particular. Excellently photographed and edited, Narrow Gauge Kingdom gives rewarding evidence of high-caliber research carried out by a genuine railroad enthusiast. Both picture-wise and in well-delivered narrative, Mr. Klatt has delved deep into the flavor of his subject, producing a film which, despite is length, is interesting throughout and of lasting historical significance. A newcomer to the Ten Best competitions Mr. Klatt has used the medium of the motion picture with rare competence. Not only has he effectively pinned down the dramatic possibilities inherent in his subject, but he has utilized the mountain background of Colorado to fine advantage. Apparently neutral between the proponents of magnetic stripe or tape recording, Mr. Klatt has used both, skillfully putting the narration and railroading sound effects on magnetic stripe and and effectively indigenous guitar accompaniment on a separate tape!" PSA Journal, Jan. 1955, 48.
---
Total Pages: 2