---
Date produced: 1955
Filmmaker(s):
Description:
"Film depicts a club picnic held at a Eaton Hall Farm. Film includes title cards. Footage includes families at picnic, playing games, canoeing, swimming and people filming with motion picture cameras" Archives of Ontario.
---
Date produced: 1952
Filmmaker(s):
Description:
A Camper and His Canoe was filmed at Camp Kawagama, the youth summer camp ran by the filmmaker and his wife.
---
Date produced: 1966
Filmmaker(s):
Description:
"The 1966 Centennial canoe race, including preparations at Tulista Park in Sidney, the race and the finish. Good close-ups of the canoeists. A large, three-masted sailboat -- possibly an imitation Chinese junk?" British Columbia Archives.
---
Date produced: 1936
Filmmaker(s):
Description:
Film record of the third international canoe race over the St. Maurice River in 1936.
---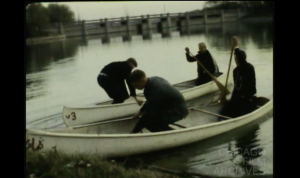 Date produced: 1957
Filmmaker(s):
Description:
"Amateur silent film of a boy scout troop making a fiberglass canoe step by step from a mold, from start to finish. Boy scouts all help in each part of the process. They then take their finished canoes on a trip where they learn how to row their new canoes and camp out on the river." Chicago Film Archives
---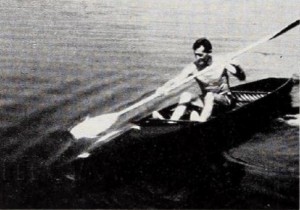 Date produced: 1951
Filmmaker(s):
Description:
"There are precious few sails in this production which William Messner has called Blades and Sails. But there is a powerful lot of cinema in its smooth 650 feet of Kodachrome. And there is a wealth of flashing blades. The blades are bandied about by Ernest Riedel, a gaunt length of rawhide and muscle, otherwise known as the national, international and Olympic canoe champion. During the smoothly plotted course of Riedel's exposition of canoeing techniques. Mr. Messner demonstrates his own championship calibre behind the camera. His angles are so right as to seem effortless — though you suspect they're not. His follow-through is as deft as a sweeping blade and his cutting as crisp as a speeding birchbark. Blades and Sails is informative, entertaining and sound cinema — which is quite a combination in any man's movie." Movie Makers, Dec. 1951, 410.
---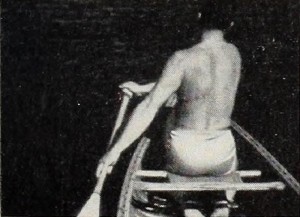 Date produced: 1950
Filmmaker(s):
Description:
"To realize that paddling bow position in a canoe can be the sole subject of an entire film should surprise any reasonable movie maker. But when you consider that Paddle Up Front! is a physical-education teaching film, it is not so surprising. Naturally, the continuity treatment is repetitious, as all teaching-film plans are likely to be. But C. Roy Terry, jr., production director, ably demonstrates that the person who occupies the forward position in a canoe has an important job when it is done properly. The photography by Ellis A. Ring is workmanlike, particularly in cross lighted scenes which point up the muscle movements in various strokes by the paddler. The didactic narrative seems unnecessarily obvious in places, but it probably is justified when one considers the specific purpose of the film." Movie Makers, Dec. 1950, 468.
---
Date produced: 1936
Filmmaker(s):
Description:
"Last, but by no means least on the list of honorable mentions, is Duncan MacD. Little's 'Voyageur's Trail,' a news film of a four-day canoe race in Canada. This film, photographed perforce under whatever conditions happened to obtain at the moment the action occurred, represents a remarkable achievement in amateur news filming, for which Little is to be commended in the highest terms." American Cinematographer, Feb. 1938, 78.
---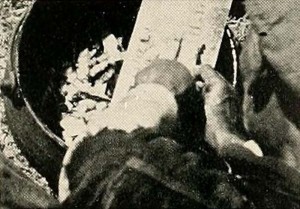 Date produced: 1936
Filmmaker(s):
Description:
"Porpoise Oil presents a cleverly planned and charming story that shows how the Indians of the upper St. Lawrence region live today and how their ancestors obtained oil from the porpoise of the neighboring bays. Dr. Leighton was fortunate enough to find an old Indian who, in his younger days, had been a champion porpoise hunter and the picture tells in Kodachrome how the fish was shot and the oil tried. This constitutes an important document of Indian craft that, otherwise, in time would be lost to the world. A touch of humor throughout and a surprise ending serve to spice the film and to make it the excellent study that it is instead of a routine record film. The continuity is well developed and the photography is of good quality." Movie Makers, Dec. 1937, 630.
---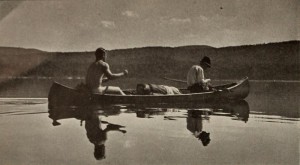 Date produced: 1936
Filmmaker(s):
Description:
"The refreshing story of a voyage by river into the Canadian wilds, presented by F. R. Crawley in Glimpses of a Canoe Trip, is really deserving of a less modest introduction than that implied by the word, "glimpses." Here, within one reel, is as comprehensive a movie tale of a trip by canoe as one could desire. The entertaining continuity, based on the natural sequence of events, is not loaded with unimportant detail; instead, footage is conserved for the more interesting episodes involved in paddling and portages. These are given a well rounded treatment that has genuine entertainment value coupled with a freshness of approach born of the enthusiasm of the maker. This sort of thing communicates itself to the audience, especially when photography, editing and titling are as well handled as they are here." Movie Makers, Dec. 1937, 629.
---
Total Pages: 2