---
Date produced: 1934
Filmmaker(s):
---
Date produced: 1933
Filmmaker(s):
Description:
"A competent example of a well-planned film of a holiday for two." BFI National Archive.
---
Date produced: 1932
Filmmaker(s):
Description:
"Those who have been in the San Francisco-Oakland district will surely remember the impression made by the harbor and shipping: well, Mr. Fox utilized this as a basic part of his story. Moreover, he utilized a little-known aspect of it — the port of "Ghost Ships" — a section of the harbor in which scores of old, condemned sailing-ships and some old shipping-board steamers, too, are tied up, decommissioned, and slowly rotting, cared for by a few old sailors turned watchmen. Mr. Fox used this background, and, for actors, he chose one of these old sailor-watchmen and his dog. His film was a simple little picture, but more than ordinarily interesting because of the way he wove his background into the story, and the fact that everything combined to make the film natural — believable." American Cinematographer, March 1934, 468.
---
Date produced: 1951
Filmmaker(s):
Description:
"'Jeep Trails Through Utah' was produced by Stan Midgley with the use of a jeep rather than his faithful bicycle. He had to leave his bicycle at home, as the deep sands of Utah can only be traveled in a jeep. In his mechanical horse he criss-crossed one of the emptiest blanks on the American map. He leaves the traveled highways and goes back into the little known areas to find fantastically beautiful and unusual natural formations. He travels over sand-blown desert trails, up rocky mountain paths and through treacherous mountain gorges to produce a gem-like picture of Utah." La Canada Valley Sun, Sept. 9, 1971.
---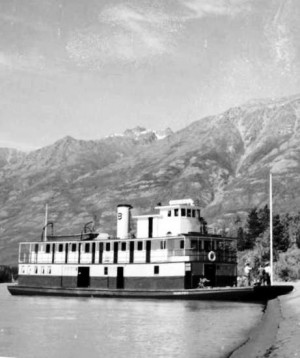 Date produced: 1935
Filmmaker(s):
Description:
"Mainly shows trip(s) up the Stikine by riverboat and placer mining activity [nearby]. Includes: waterfront view of Wrangell, Alaska; views of and from riverboat Hazel B No. 2 going upriver; the Three Sisters (islands in the river); riverboat at Telegraph Creek and barge at Dease Lake, and local activity; forest fire & fire-fighting; shots of a Fokker F-11AHB flying boat designated CF-AUV (at dock and taking off) and a Fairchild floatplane; aerial shots in the vicinity; wreckage of aircraft CF-AUV (which crashed at McDame Lake, 13 July1935); general scenery and wildlife. The placer mining footage, which is interspersed, includes shots of a small mining camp, sluice works, panning, hydraulic monitor operation, jerry-built mining equipment in use, etc. [The footage] was shot [ca. 1933-35] by Joseph J. Jackson, whose company "Three J's Placer Mines, Inc." prospected near the confluence of Thibert Creek with Dease Lake in [the years 1931-35]." (BC Archives)


---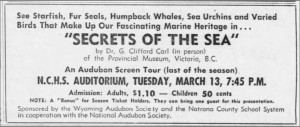 Date produced: 1953
Filmmaker(s):
Description:
"Marine and seashore life on the Pacific coast. Includes: tidal plants, crustaceans, fish; oolichan fishery and its importance; seabirds of Triangle Island and Queen Charlotte Islands; seals and seabirds on the Pribilof Islands, etc. Also footage of Victoria Inner Harbour area, houses and gardens." (BC Archives)

Compiled from Clifford Carl's BC Provincial Museum films for use on an Audobon Screen Tour. Appears to have been revised in 1959.
---
Date produced: 1949
Filmmaker(s):
Description:
"Plants and birds in a BC marsh."(BC Archives)
---
Date produced: 1955
Filmmaker(s):
Description:
"The dependence of all living things on water. The physical properties of water; water as a habitat for such creatures as insects, birds, beavers, frogs; use and abuse of water resources by man." (BC Archives)
---
Date produced: 1949
Filmmaker(s):
Description:
"The film is credited to Evelyn, who captures her husband's collecting habits of "everything and anything." This time it happens to be driftwood. Title cards of dialogue are interspersed with images of John and Evelyn collecting driftwood along a Wisconsin beach." Chicago Film Archives
---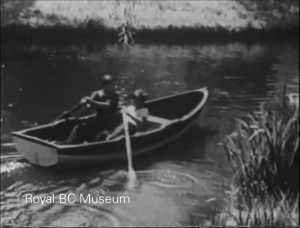 Date produced: 1950
Filmmaker(s):
Description:
"An impressionistic portrait of city life during a day off in the summertime, with poetic narration set opposite some very observant and intimate views of Vancouver and its inhabitants. These include numerous street scenes; departure of the passenger ferry 'Hollyburn'; shots of and from Interurban railway and streetcars; sequences on Chinatown, Kitsilano Beach, Stanley Park, Victory Square, and the downtown waterfront; and a glimpse inside a typical beer parlour. The film received honourable mention in the amateur category at the 1950 Canadian Film Awards." (BC Archives)

Opening credit reads: "The Vancouver Branch of the National Film Society presents..."

Additional credits (on 1986 restored version): "Restored 1986 by Dennis J. Duffy for National Film Week '86 in co-operation with Canadian Filmmakers Distribution West and the Provincial Archives of British Columbia. Restoration funded by BC Heritage Trust."
---
Total Pages: 5