---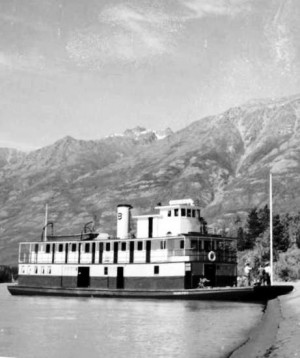 Date produced: 1935
Filmmaker(s):
Description:
"Mainly shows trip(s) up the Stikine by riverboat and placer mining activity [nearby]. Includes: waterfront view of Wrangell, Alaska; views of and from riverboat Hazel B No. 2 going upriver; the Three Sisters (islands in the river); riverboat at Telegraph Creek and barge at Dease Lake, and local activity; forest fire & fire-fighting; shots of a Fokker F-11AHB flying boat designated CF-AUV (at dock and taking off) and a Fairchild floatplane; aerial shots in the vicinity; wreckage of aircraft CF-AUV (which crashed at McDame Lake, 13 July1935); general scenery and wildlife. The placer mining footage, which is interspersed, includes shots of a small mining camp, sluice works, panning, hydraulic monitor operation, jerry-built mining equipment in use, etc. [The footage] was shot [ca. 1933-35] by Joseph J. Jackson, whose company "Three J's Placer Mines, Inc." prospected near the confluence of Thibert Creek with Dease Lake in [the years 1931-35]." (BC Archives)


---
Date produced: 1938
Filmmaker(s):
Description:
"B&W: views of Arrow Lakes scenery from a sternwheeler; arrival; the "Minto" at dock. Two men travelling by packhorse in the Lardeau. The steam tug "Beaton". Sequence on gold mining in the Cariboo, with footage of a hydraulic mining operation. COLOUR: Vancouver; Lions Gate Bridge and Stanley Park approach; city skyline. Trip on the steamship S.S. "Catala": views at sea; approaching settlement; people meeting the boat; log boom and sawmill adjacent to the dock. Alert Bay: views of village, store, homes, etc.; Indian children at play; schoolgirls in red sweaters [from St. Michael's Indian Residential School]; steamboat arriving; many shots of totem poles, graveyard, etc. Fishing fleet in harbour, preparing nets, and heading out to sea. Fishboat crew hauling in net full of thrashing salmon, and brailing them onto boat. Other fishboats setting their nets, hauling in salmon. Fishboat crew unloading salmon onto conveyor; shots of cannery wharf, female cannery workers. Savary Island: family vacation scenes; lodge; children at play; adults playing golf on beach at low tide; departing on a boat trip." (BC Archives)
---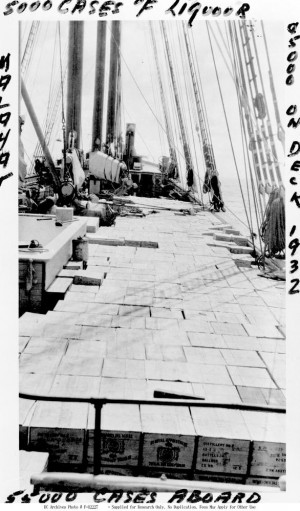 Date produced: 1933
Filmmaker(s):
Description:
"Depicts a rum-running expedition from Victoria to "Rum Row" off the California coast with the mother ship M.V. Malahat. The tender M.V. Hickey is shown transferring cases of liquor to American vessels and avoiding US Navy cutters. At San Martin Island, Mexico, the Hickey puts in for repairs." (BC Archives)

NOTE: The original reversal film was lost in the 1990s after being sent out for video transfer in Vancouver. Only the BC Archives analog video transfer is extant.
---
Date produced: 1938
Filmmaker(s):
Description:
"Shows Don and Phylllis Munday family travelling by boat from Vancouver to Bella Coola, then by pack train into Tweedsmuir Park, and visiting various natural sites" British Columbia Archives.
---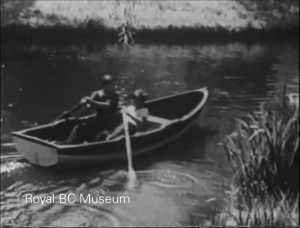 Date produced: 1950
Filmmaker(s):
Description:
"An impressionistic portrait of city life during a day off in the summertime, with poetic narration set opposite some very observant and intimate views of Vancouver and its inhabitants. These include numerous street scenes; departure of the passenger ferry 'Hollyburn'; shots of and from Interurban railway and streetcars; sequences on Chinatown, Kitsilano Beach, Stanley Park, Victory Square, and the downtown waterfront; and a glimpse inside a typical beer parlour. The film received honourable mention in the amateur category at the 1950 Canadian Film Awards." (BC Archives)

Opening credit reads: "The Vancouver Branch of the National Film Society presents..."

Additional credits (on 1986 restored version): "Restored 1986 by Dennis J. Duffy for National Film Week '86 in co-operation with Canadian Filmmakers Distribution West and the Provincial Archives of British Columbia. Restoration funded by BC Heritage Trust."
---
Date produced:
Filmmaker(s):
Description:
"Scenes of Vancouver Island, including the Victoria Inner Harbour, local tourist attractions, ocean shots, Chinatown, sailboats and nature shots" British Columbia Archives.
The film was produced at some time in the 1960s.
---
Date produced: 1937
Description:
Life at Deep Cove "shows family leisure activities, 1937 Deep Cove Regatta; colour section of sunbathing and Deep Cove scenes" British Columbia Archives.
---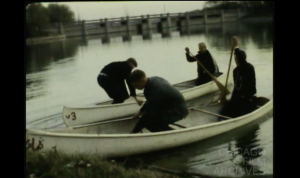 Date produced: 1957
Filmmaker(s):
Description:
"Amateur silent film of a boy scout troop making a fiberglass canoe step by step from a mold, from start to finish. Boy scouts all help in each part of the process. They then take their finished canoes on a trip where they learn how to row their new canoes and camp out on the river." Chicago Film Archives
---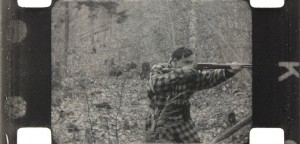 Date produced: 1926
Filmmaker(s):
Thomas Archibald (Archie) Stewart
Description:
"Structured around a hunting trip to Maine made by Archie Stewart and Howard Kendall. The two men travel to Perry, Maine, from New York state by train, then drive a car to a lake where they transfer their luggage to a motor boat on Grand Lake Stream and ride through heavy fog on rough water to West Grand Lake. They then carry a canoe to Lower Sysladobsis Lake, load the canoe with their rifles and supplies, and paddle off. After reaching their camp along the lake's shore, they check their rifles and eat before hunting." oldfilm.org
---
Date produced: 1937
Filmmaker(s):
Description:
"A Vacation with Lucy Carlisle, Margaret Pinkham, Virginia Carlisle." oldfilm.org
---
Total Pages: 3