---
Date produced: 1961
Filmmaker(s):
Description:
"A compilation film illustrating patterns in nature through examples found on the Pacific coast. Includes varied tidal marine life and plants -- crabs, starfish, lobster, anemones, clams, etc. Discussion of patterns in form and structure, behaviour and natural association." (BC Archives)
---
Date produced: 1950
Filmmaker(s):
Description:
"Seashore plant and animal life (e.g., crustaceans, anemones, worms, octopus, jellyfish, etc.)" (BC Archives)

Also exists in a shorter version called Sea Creatures, which was probably edited from the original film for classroom use in 1969..
---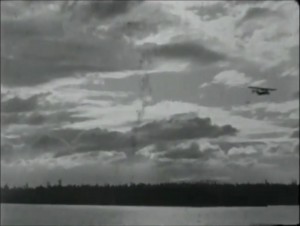 Date produced: 1933
Filmmaker(s):
Description:
"Members of the BC Mountaineering Club fly from Jericho Beach, Vancouver, in a Sikorsky S-38 amphibian (Canadian Airways, registration CF-ASO), and land on Garibaldi Lake. Most of the footage depicts the members climbing Mount Garibaldi and resting at the summit. Returning to the lake, they board the amphibian and fly back to Jericho Beach" British Columbia Archives.
---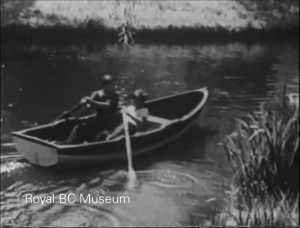 Date produced: 1950
Filmmaker(s):
Description:
"An impressionistic portrait of city life during a day off in the summertime, with poetic narration set opposite some very observant and intimate views of Vancouver and its inhabitants. These include numerous street scenes; departure of the passenger ferry 'Hollyburn'; shots of and from Interurban railway and streetcars; sequences on Chinatown, Kitsilano Beach, Stanley Park, Victory Square, and the downtown waterfront; and a glimpse inside a typical beer parlour. The film received honourable mention in the amateur category at the 1950 Canadian Film Awards." (BC Archives)

Opening credit reads: "The Vancouver Branch of the National Film Society presents..."

Additional credits (on 1986 restored version): "Restored 1986 by Dennis J. Duffy for National Film Week '86 in co-operation with Canadian Filmmakers Distribution West and the Provincial Archives of British Columbia. Restoration funded by BC Heritage Trust."
---
Date produced: 1939
Filmmaker(s):
Description:
"This film captures (in excellent pre-war Kodachrome) a day in the life of Stanley Park. An early effort at independent documentary production by a group of Vancouver film enthusiasts, including amateur cinematographers Oscar Burritt and Don Lytle. The Coast Films group intended to produce a series of films that could be distributed by the fledgling National Film Board of Canada, but World War II intervened, and this was their sole group effort. Stanley Park was restored in 1987 by the British Columbia Archives." (BC Archives)
---
Date produced: 1934
Filmmaker(s):
Description:
"A travelogue extolling the virtues of New England as a vacation spot. The film shows people swimming at York Beach; visiting a lighthouse; going deep-sea fishing on the "Pearl" with Captain Brewer and visiting Bald Head Cliff for clams, and Cape Neddick for a close-up look at marine life. The tourists appearing in the film may be the Crawley family. York Beach is located in Maine" Library and Archives Canada.
---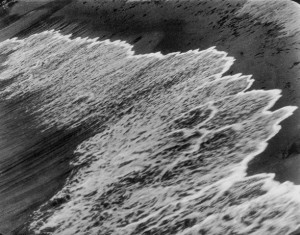 Date produced: 1930
Filmmaker(s):
Description:
"Steiner is interested in film's capacity to invigorate everyday sight, to alert viewers to the simple, magical visual pleasures available in nearly any circumstance. The film is divided into sequences that focus on specific kinds of imagery in and around ocean surf" Scott MacDonald via Light Cone.
---
Date produced:
Filmmaker(s):
Description:
"Begins with a close-up intro of the Davis's in a small boat. One of the girls falls overboard and is saved. A woman drops her jewels overboard. Family disembarks. Finds a clue on a piece of paper. The Family sets out in boat with shovels, saws, axes, etc. Quarrel with another family. Find a deed." oldfilm.org
---
Date produced: 1959
Filmmaker(s):
Description:
""We were among twenty teams, all wearing our glamour suits for this event, as we marched up the beach together." Before the parade there were rehearsals with rope carriage, simulated rescue missions, and resuscitations, going through all the motions of practice. Then came the big event when the teams were in competition, each excited with the ambition and hope of winning, the judges noting every point in favor or against. A sporting day at the beach among the contestants and the spectators. "We didn't win but we were there as a team" is a sporting conclusion" PSA Journal, Nov. 1959, 47.
---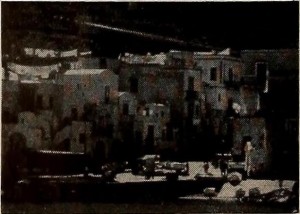 Date produced: 1953
Filmmaker(s):
Description:
"From the Island of Capri, Helen Welsh has brought home a charming, sunny vignette in Where the Sirens Sang. It is the sort of film any traveler would like to have as a memento of a pleasant sojourn. Miss Welsh's seeing lens has captured the spirit of the countryside, its people, its luxurious beaches, its typical transportation. For this reviewer, Where the Sirens Sang plays a beckoning tune indeed." Movie Makers, Dec. 1953, 334-335.
---
Total Pages: 2