---
Date produced: 1976
Filmmaker(s):
Description:
"Edited film created by Frank L. Kreznar, an award winning amateur filmmaker, documents Slovenia, Croatia, Bosnia-Herzegovina, Vojvodina, and Serbia. Most of the footage is of countryside or mountainous areas although Kreznar depicts Zagreb, Croatia, and Belgrade, Serbia. The historic Petrovaradin Fortress in Vojvodina, Serbia, is only historic building filmed. The footage of Slovenia emphasizes agriculture, while the footage of Bosnia-Herzegovina includes scenic shots of mountains and waterfalls. Kreznar also shows traditional houses in the rural areas providing a contrast to modern Soviet construction such as Soviet-style apartment buildings. Shots of urban areas also include an emphasis on the lack of cars, high volumes of pedestrian traffic, and the popularity of public transportation. He depicts churches that are still being actively used while discussing the lack of Soviet suppression of religion in Yugoslavia, and he shows the existence of privately held business enterprises such as taxi services and cafés. He also mentions that the majority of Yugoslavian agriculture is under private, family control and that private businesses with five or less employees are allowed to exist. Kreznar discusses the impact of wars between Eastern and Western Europe on this territory, showing various war memorials throughout the film. The film ends with footage of hitchhikers – mainly from countries in Western Europe – attempting to travel through the country" via the Human Studies Film Archives, Smithsonian Museum.
---
Date produced: 1955
Filmmaker(s):
Description:
"Views from ground of Salt Lake City skyline, Antelope Island, the train causeway, a passenger train, the salt flats, salt crystallization on rocks, brine shrimp, auto racing on the salt flats, seagulls (with sound), sail boating, swimmers at Saltair, Sunset Beach, the marina, water skiers, boat painting, and the Utah State Capitol building." University of Utah Marriott Library.
---
Date produced: 1935
Filmmaker(s):
Description:
"Film footage moderately edited with added intertitles, shot in Ceylon, Egypt, and Italy by oil explorer and geologist Walter Link during his personal vacation, records various tourist destinations. Landmarks include: the beach and harbor at Colombo, Sri Lanka (Ceylon); the Sphinx, pyramids, Mosque of Mohamed Ali and Egyptian Museum in and around Cairo, Egypt; Villa San Michele in Capri, Italy; and St. Peters and the Coliseum in Rome, Italy. Footage consists mainly of sights and structures, and features little interaction with local inhabitants," Human Studies Film Archives, Smithsonian Museum.
---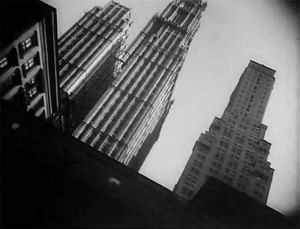 Date produced: 1929
Filmmaker(s):
Description:
"The hard-edged graphics of 'Skyscraper Symphony' stand in contrast to other New York 'scenics' produced during the 1920s. Composed of skewed perspectives, Robert Florey's camera looks straight up the domineering concrete behemoths. And it is hard to determine if the film mimics symphonic form as the title suggests or whether it advances a new methodology in musical-visual shot progression that reflects the alien structures depicted." —Bruce Posner via Light Cone
---
Date produced: 1926
Filmmaker(s):
Description:
"Flaherty's New York film is a negotiation of modern urban culture (the city) by a filmmaker whose interests had primarily been of the exotic, the folk, the ancient cultures" (Tepperman 32).
---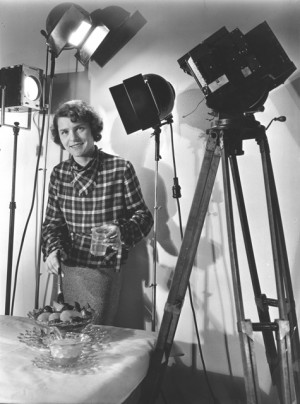 Date produced: 1936
Filmmaker(s):
Description:
"We Are All Artists, traces our experience of the aesthetic in the everyday; it begins by considering the related categories of beauty, art, and craftwork before moving on to suggest some of the many ways that modern art and design have made our world more beautiful. Offering a broad definition of art as any "skillful or purposeful endeavor," the film suggests that we are all artists to the extent that we exercise aesthetic judgement through a range of quotidian activities. The film presents a montage sequence showing a woman cleaning, men painting a wall, a letter being typed, and activities in gardening and pottery and then concludes by proposing that even "exercising the powers of selection" —as in purchasing a hat—makes use of some attributes of the artist" (Tepperman, 237-238).
---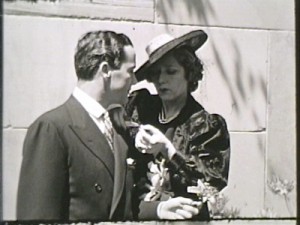 Date produced: 1969
Filmmaker(s):
Description:
"Black-and-white home movie provides a tour of Rockefeller Center, including scenes of Mary Pickford and Buddy Rogers at a garden event." oldfilm.org
---
Date produced: 1957
Filmmaker(s):
Description:
"Title, 'Nequasset Bridge is on new location of Route 1 near the famous ship-building city of Bath.'" oldfilm.org
---
Date produced: 1948
Filmmaker(s):
Description:
"Brickett Bridge, Andover Maine was built in 1871 of native spruce lumber. It served its purpose well until 1948 when it was replaced with steel and concrete." oldfilm.org
---
Date produced: 1949
Filmmaker(s):
Description:
"Bridge construction, Meadow Brook Bridge, Maine. 'Opeechee Stream Bridge, Searsport' 'The Gypsie Bridge Builders enjoy the summer breezes of Penobscot Bay while replacing one of the few stone bridges remaining on Route 1.' Detailed documentation of bridge building in rural Maine." oldfilm.org
---
Total Pages: 3