---
Date produced: 1930
Filmmaker(s):
Description:
"The construction of the POM (Pride of Montreal) Bakery in Montreal. Some commercial harvesting footage with baking at POM." (LAC description)
---
Date produced: 1941
Filmmaker(s):
Description:
"The film was conceived of, directed, shot, edited, and hand-titled by Barstow. A staff volunteer, Barstow had recently graduated from Dartmouth College (class of 1941) when he accepted work on the farm with his wife, Meg. The "Newark Kid-Stars," as they are credited in the film, helped to create the story and acted in the film, yet their names were never recorded." The Back Table, Archives and Special Collections at the New York University.
---
Date produced: 1971
Filmmaker(s):
Description:
"Rice Harvest in Japan by James and Veda Linford, PSA members of Oakland, Calif. The Linfords have presented another pirze film to go along with their former winners. This 8-minute 16mm film was awarded a Ten Best Medal" PSA Journal, Nov. 1971, 41
---
Date produced: 1967
Filmmaker(s):
Description:
"Rice and Farmer depicts the life and toil of the Japanese who raise rice for a living. Ueda, who made the film, has a keen eye for composition. Few filmers today pause long enough to look for a pleasing view through the lens before pressing the trigger, but this is one of Ueda's strong points, and his film is a joy to see for this one aspect alone" PSA Journal, Aug. 1967, 37.
---
Date produced: 1965
Filmmaker(s):
Description:
"The Stones of Eden is a documentary on the modern day life of a common wheat farmer in Afghanistan. Today he ekes out his living about the same as he did 2000 years ago. We see him fasten the yoke to his oxen and till the hard dry soil with a primitive plow. Five times a day he stops to kneel in prayer, no matter where he is. We see the grinding of wheat and the baking of bread. At the village the farmer exchanges his wheat for a few necessities, then leaves the village, his only contact with the 20th Century, for his fortified walls of stone to keep out wild animals, human enemies, and other fears. The film won the MPD Student Film Award" PSA Journal, Sept. 1965, 50.
---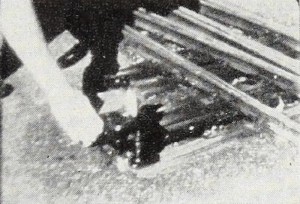 Date produced: 1951
Filmmaker(s):
Description:
"The Southwestern and Centerville Railroad boasts a roadbed of less than two miles and runs only on Saturdays — and then to "nowhere." But it undoubtedly provides the favorite ride of all the kids (as well as their equally enthusiastic parents) from the surrounding countryside. In The Fresh Milk Line, Roy Fulmer, jr., records the operation of this narrow gauge railroad on a dairy farm in New Jersey, run as a hobby by the owner of the farm. Closeups of the working of the Diesel engine, the switches and signals add technical interest; while the sequence of laying a new piece of track by presumably adult employees on the farm makes it apparent that the men enjoy "working on the railroad" as much as would any youngster. Here is one film whose interest would have been heightened by a musical accompaniment with sound effects." Movie Makers, Dec. 1951, 412.
---
Date produced: 1932
Filmmaker(s):
Description:
"Eastman Kodak Company prize for the finest example of photography in any out-of-door picture whether it wins a cash prize or not was awarded to Tatsuichi Okamoto, Maysuyama, Japan, for 'Early Summer,' 1 reel. This is a different subject than the one which won him second prize." American Cinematographer, Jan. 1933, 25.
---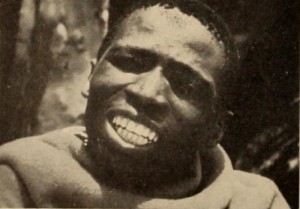 Date produced: 1949
Filmmaker(s):
Description:
"Through the eyes and experiences of Matsela, a statuesque native of Basutoland, South Africa, Lewis Lewis reveals a stirring story of the triumph of modern agricultural science over the warring elements of nature. The account of how Matsela and his people all but perish in the dust bowl created by malevolent storms and drought, how he studies under a government program of soil reclamation and triumphantly puts his new training to work, provides an absorbing drama and an enlightening document on one of the world's grave problems. Although dealing with literal facts, Mr. Lewis dramatizes the incidents in his story with telling skill. Superb camera work and an attractive variety of viewpoints aid the dramatic effect, while a fascinating score of native songs further enhances the presentation. Save as a scientific record, the film is somewhat overlong, with the second of three 900 foot reels regrettably slow paced after the swift excitement of the opening chapter." Movie Makers, Dec. 1949, 455.
---
Date produced: 1937
Filmmaker(s):
Description:
"[Nation Builders] covers the history of Australia from the landing of Captain Cook in 1770" Educational Film Guide, 1946 Edition, 978-F.

"Documentary (possibly produced for Australia's Sesquicentenary in 1938) 'dedicated to the pioneers of Australia, past and present'." NFSA.
---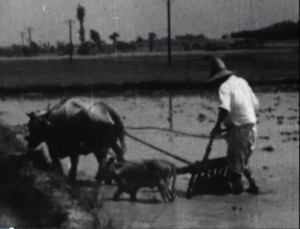 Date produced: 1932
Filmmaker(s):
Description:
"Documentary: On peasant farm life in Korea, the rice crop and family labor." National Archives.

"'Rice,' a three reel subject in the educational class entered by F. C. Ells of Yokohama, Japan, demonstrated a fine appreciation of production and photographic values as well as how to combine it so as to make entertainment. Many were of the opinion that this picture, if it were in 35mm, would be worthy of professional theatre presentation." American Cinematographer, Dec. 1933, 321.
---
Total Pages: 3