---
Date produced: 1934
Filmmaker(s):
Description:
"Why Junior High School, by Irving Pollack, ACL, gives the answer to its own question with a freshness and vigor that mark it as an outstanding amateur achievement. Classroom activities, a difficult subject, were handled with fruitful appreciation of what goes into an interesting picture. The film is marked throughout with thoroughly satisfactory photography and there are some scenes which present highly effective compositions. The story, told with a carefully worked out plan, never is allowed to become dull or uninteresting. The directorial ability of Mr. Pollack is well shown in the manner of handling those who appear in the pictures, for no evidence of self consciousness can be seen. The audience gains the impression that the picture was made by some one who knew what he wanted and went directly after it." Movie Makers, Dec. 1934, 547.
---
Date produced: 1934
Filmmaker(s):
Description:
"Ramblings Around Sydney, by James A. Sherlock, ACL, is a carefully planned and photographed motion picture study of a city, a happy example of what care and cinematic sensitivity can do for this type of subject. Although Mr. Sherlock did not commit himself to any strong continuity theme, the picture yet has a delicate cohesiveness that defied the best efforts of the earlier amateur movie makers. Outstanding are the filter shots, the shots made of city streets in the rain and the night scenes. Throughout there is a careful choice of camera viewpoint which succeeds in revealing many aspects of the city in relatively short footage. The whole is welded into an enjoyable subject that would entertain any audience." Movie Makers, Dec. 1934, 547.
---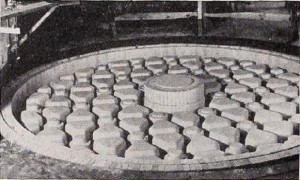 Date produced: 1934
Filmmaker(s):
Description:
"Pouring A 200 Inch Telescope Mirror, by Edmund H. Wellech, ACL, is a glorified industrial but greatly worthy as a clear record of one of civilization's milestones. Mr. Wellech's film, in addition to being an important scientific document, is, besides, a truly excellent cinematic achievement, for it makes an involved subject entirely understandable. The accomplishment of the single task of determining the correct exposure for scenes of molten glass against a dead black background is in itself a feat that would make the film outstanding. But, beside this, there are carefully worked out cinematic exposition and an approach to perfection in every aspect. As an engineer working at night for the Corning Glass Company, Mr. Wellech devoted his spare daytime hours to making this noteworthy film." Movie Makers, Dec. 1934, 546-547.
---
Date produced: 1934
Filmmaker(s):
Description:
"Florida, a documentary film of that state, made in Kodacolor by H. W. Voss, ACL, has been given Honorable Mention because of the freshness and charm of its component subject matter. Replete with human interest material, such as sequences of wild turkeys, new born calves and clumsy, appealing puppies, the picture is a bright and amazing mine of simple entertainment. Though Mr. Voss slips occasionally from a uniformly high technical standard of color work, he need bow to no one in the warmth and charm which he finds and records everywhere in the life about him." Movie Maker, Dec. 1934, 546.
---
Date produced: 1934
Filmmaker(s):
Description:
"Adequate illumination of the large areas of classrooms, auditoriums and laboratories, each with varied light absorbing or reflecting characteristics, presents a respectable problem to the average movie maker, even with the dual aid of supersensitive film and Photofloods. However, in Emma Willard School, T. W. Willard, ACL, has met and overcome this problem with great success and moreover with attractive and satisfying results. Although the production of the film would appear to have been beset with a whole range of large scale lighting problems, from balancing the daylight from large window areas to illuminating rooms completely with artificial light, not once are the results cramped in any way. Important action is highlighted to feature it and there is always a pleasant composition of illumination." Movie Makers, Dec. 1934, 546.
---
Date produced: 1934
Filmmaker(s):
Description:
"Bringing Kodacolor indoors was the task E. M. Barnard, ACL, set for himself in Christmas 1933, and the result is a 400 foot reel of very charming Christmas studies. One of the few attempts at a complete personal story in color, this picture presents a well photographed and adequately planned film of the youngsters' enjoyment of the holiday. Exposure for interior Kodacolor seems to be no problem to Mr. Barnard, for the majority of his scenes have perfect color rendition as well as very effective and interesting lighting. Some of the studies of his small daughter have an appealing loveliness that is impossible to get in black and white, for they present the very delicate flesh tones with perfect faith as well as the colors of costumes and incidental Christmas background. This film marks a new step in personal indoor filming and leads the way to more extensive use of the color medium by artificial light." Movie Makers, Dec. 1934, 546.
---
Date produced: 1934
Filmmaker(s):
Description:
"Among the pictures awarded Honorable Mention is An Evening at Home, by Arthur E. Ojeda, ACL, a rare achievement in film planning — the family picture of interest outside the family. In it the father arrives home from his work and is greeted by the children. Soon, after the bedtime story, they toddle off upstairs, leaving the domestic stage clear for the grownups' dinner and the subsequently arriving neighbors. There follow a shaker of friendly drinks and a session of jigsaw puzzling after which the guests depart. The last lights go out and the film is over. Mr Ojeda's treatment of this theme is clearly sequenced, told without titles and mostly in closeups. Honorable mention was well deserved by the definite interest which he brought to the subject. With more perfect technical execution, an even greater honor might have been won by this family film." Movie Makers, Dec. 1934, 546.
---
Date produced: 1934
Filmmaker(s):
Description:
"The World's People, production of Edmund Zacher, II, ACL, and Herbert Johnson, ACL, with musical accompaniment and incidental sound effects by the record and double turntable method and with a narrative presented by Mr. Johnson through the sound system, offers a combination of visual and aural entertainment that is marked by a finish and perfection in cinematography and an interest and liveliness in accompaniment. The film describes a visit to the Century of Progress exposition in Chicago, featuring as its theme the many races and nations of the world represented there. The cinematography of Messrs. Zacher and Johnson is effortless and of uniformly high standard, is playing with intelligent restraint the effects used by professional cameramen. The combination of long shots, medium views and closeups leaves no beholder unsatisfied in any scene presented. There is a decidedly human character in the whole footage and the people are never overshadowed by architecture or machinery. In one place, two somewhat indignant ladies are seen in vigorous and disapproving conversation, for example, yet they are entirely unconscious actors. In continuity planning and execution, in cinematographic perfection and in a satisfying and informing use of excellent narrative, music and sound effects, The World's People sets a high standard in starting out to do a thing and doing it with sureness and real success." Movie Makers, Dec. 1934, 546.
---
Date produced: 1934
Filmmaker(s):
Description:
"Venice, another Kodacolor achievement by John V. Hansen, ACL, exemplifies in a new way the amazing versatility of the amateur color medium in the hands of a master craftsman. The significant accomplishment in this case is capturing the brilliant, yet delicate, Andrea del Sarto mosaics in the arched recesses above the doors of St. Marks in Venice. Although the sunlight does not strike these mosaics directly and lighting conditions for any type of photography are difficult, Mr. Hansen succeeded in registering the tones and colors, from the most subtle pastel shades to the brilliant yellow of metallic gold. This latter quality, so difficult to simulate in any medium other than the real thing, here is shown with the rich luster of the metal itself. Turneresque interpretations of Venice in another section of the reel are equally beautiful, if less obvious accomplishments, while studies of colors of buildings, as reflected in shimmering water, succeed in preserving what otherwise would be the most elusive memories of beauty. Mr. Hansen richly deserves the accolade of the Ten Best." Movie Makers, Dec. 1934, 534, 545-546.
---
Date produced: 1934
Filmmaker(s):
Description:
"In Thyroidectomy, Henry M. Lester, ACL, has combined all the essentials of the perfect medical film. The delicate color gradations of tissues that mean much to the surgeon are clearly evident, due to excellent exposure, lighting and suitable film stock. Thorough presentation of the operating technique is given by means of suitable telephoto lenses and properly placing the camera in relation to the surgical field. An unusual feature of this particular operation is the large number of instruments which necessarily must remain in the field most of the time, creating a difficult problem for the photographer in that the many shining surfaces tend to produce undesirable reflections. However, Mr. Lester has solved this problem to perfection. The film is a result of the combination of highly specialized skill, equipment designed for the purpose and an exact knowledge of the requirements for the perfect surgical film." Movie Makers, Dec. 1934, 534.
---
Total Pages: 216