---
Date produced: 1934
Filmmaker(s):
Description:
"In Thyroidectomy, Henry M. Lester, ACL, has combined all the essentials of the perfect medical film. The delicate color gradations of tissues that mean much to the surgeon are clearly evident, due to excellent exposure, lighting and suitable film stock. Thorough presentation of the operating technique is given by means of suitable telephoto lenses and properly placing the camera in relation to the surgical field. An unusual feature of this particular operation is the large number of instruments which necessarily must remain in the field most of the time, creating a difficult problem for the photographer in that the many shining surfaces tend to produce undesirable reflections. However, Mr. Lester has solved this problem to perfection. The film is a result of the combination of highly specialized skill, equipment designed for the purpose and an exact knowledge of the requirements for the perfect surgical film." Movie Makers, Dec. 1934, 534.
---
Date produced: 1934
Filmmaker(s):
Description:
"In Peasants, Konstantin Kostich, ACL, has produced a sympathetic and withal entertaining picture of the people of village and farm land in Czechoslovakia and Roumania. Expert photography, an understanding choice of camera angle and workmanlike sequences mark this interesting film study and serve as a vehicle for its outstanding quality — a sincere and attractive presentation of the people as they are, not as they might be made to appear for the sake of motion picture cleverness. Mr. Kostich needs rely only on his own skill and can afford to neglect making a point of what, in dress or custom, might appear to be a strange peculiarity to another people. Unlike many professional travel photographers, he can avoid these obvious aids to sustain interest and can present his peasants on the friendly basis of real understanding. This does not mean that he does not tell a real story; it simply means that he tells it fairly and sincerely and, hence, beautifully." Movie Makers, Dec. 1934, 534.
---
Date produced: 1934
Filmmaker(s):
Description:
"Not One Word, by Kenneth F. Space, ACL, is an all around triumph of amateur photoplay production. It is a simple melodrama of the keeper of a lighthouse, his wife and the rejected suitor who returns. A wreck at sea (beautifully staged in miniature) is the complicating dramatic factor, and, with these ingredients, a dignified motion picture story of remarkable unity has been produced. In it, Mr. Space and his able staff have blended dramatic lighting, authentic settings and superb photography to achieve a distinguished whole. Under restrained but smoothly paced direction, the three leading players have enacted their roles with definite histrionic skill. If one were to try to select a single quality in the film which is outstandingly brilliant, the vote of this observer would be cast for the cutting. It is accurate and incisive, adding that last bit of dramatic "punch" which is perhaps the quality least often achieved by the amateur producer. Not One Word speaks for itself, but in the wordless and potent idiom of cinematic imagination." Movie Makers, Dec. 1934, 534.
---
Date produced: 1934
Filmmaker(s):
Description:
"Made by F. D. Koehler, jr., ACL, The Mississauga Canoe Trip is a fine example of what the movie maker can accomplish on a hunting trip in capturing a picture that has both good photography and an interesting story presentation. The fact that a tripod was added to the duffel did not daunt this cinematic hunter, and the result is refreshingly rock steady pictures that leave nothing to be desired. Perfect exposure, for the most part, and some excellent lighting show that the maker had an eye for the essentials of good picture making. A knowledge of what makes a good screen picture is demonstrated in the many effective closeups throughout the film. An excellent job of amateur titling is another feature that places this film in a high category for vacation films." Movie Makers, Dec. 1934, 534.
---
Date produced: 1934
Filmmaker(s):
Description:
"The Last Review, by George A. Ward, ACL, is an almost faultless example of a military motion picture, into which is woven a story that has the rare quality of evoking deep emotion from the audience. Actually, the film is a record of the camp life of the 105th Field Artillery of the New York National Guard, in its summer instruction quarters at Pine Camp, N. Y. Dramatically, it is the story of a Field Artillery private soldier and his friend, the oldest horse in the regiment. Condemned to be shot because of age and the approaching motorization of the command, the horse is reprieved and is given a review by the entire regiment in honor of "the artilleryman's best friend." The tale was not fictional, but actual. The hero was a member of the regiment, he loved the veteran horse and the review was actually held, not for purposes of filming but as a tribute. The film ends with the review, while actually the reprieve was only temporary and the equine actor has since been destroyed because of age. In this film, Mr. Ward exhibited cinematography of high quality and much incidental beauty. He contrived, as well, to give a military record that errs in no detail and that has no false note. To crown it all, he filmed a scenario, in itself moving and acted with complete sincerity." Movie Makers, Dec. 1934, 534.
---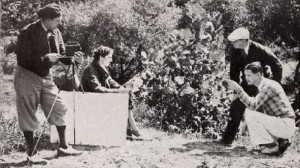 Date produced: 1934
Filmmaker(s):
Description:
"Hooked, an 8mm. comedy by the Grand Rapids Movie Makers, was intended as a straight drama of the trout streams. It has ended, however, as a delightful farce of a movie club trying desperately to complete such a picture — and is probably the better because of this mid production metamorphosis. For, although the first and original section of the picture is wholly charming and well photographed, it is in the latter section that the film picks up spirit, sparkle and definite dramatic power. It is in this part that the producers have conceived and executed a number of cinematic coups, climaxing them with a stunning multiple exposure sequence probably never before equalled or even approached in this medium. Walter Mills, ACL, L. Thorny, ACL, M. P. Gamber and Wendell Patton, of the Grand Rapids club, continue and enhance, with this film, their rightful reputation as most able advocates of 8mm." Movie Makers, Dec. 1934. 534.
---
Date produced: 1934
Filmmaker(s):
Description:
"In Birds of a Feather, Edmund Zacher, II, ACL, exhibits the patience and skill necessary to compile a complete story entirely with telephoto lenses. All the particular points which must needs be observed to make successful telephoto pictures — careful centering, sharp focusing and rigid camera support — are exhibited in this film, which is interesting withal, as it tells the story of a thrush family from the time the youngsters are hatched until the last laggard leaves the nest. Some scenes, which show the parent bird in closeup by means of telephoto magnification and in which the bird fills the entire frame, are truly remarkable. Good fortune gave Mr. Zacher the beautiful background of a flowering tree for this springtime idyll. A suitable musical background — compiled from discs — accompanies the film. Mr. Zacher made this picture entirely from a window in his home, and his patience and skill in capturing every needed shot are remarkable." Movie Makers, Dec. 1934, 534.
---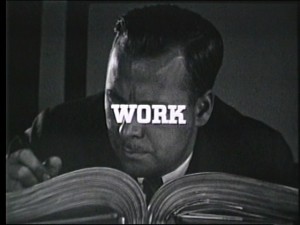 Date produced: 1934
Filmmaker(s):
Description:
"Among the Ten Best, Another Day, by Leslie Thatcher, ACL, is a splendid example of the relatively simple avant garde film, so popular among European amateurs but so seldom attempted by even the advanced workers of the American continent. Set against the background of Toronto, Another Day portrays in semi abstract fashion the dramatic changes which overtake the life and tempo of a great city as Saturday crosses the noontime deadline from work to play. Mr. Thatcher's conception of this theme is clean cut, his execution suave and technically brilliant. Dissolves, wipeoffs and double exposure are blended intelligently with matchless straight photography to enhance the beauty of striking angles and compositions. With the subject matter of such films ready to the hand of every amateur cameraman, it is a strange phenomenon that to date they are not attempted more often." Movie Makers, Dec. 1934, 513, 534.
---
Date produced: 1933
Filmmaker(s):
Description:
"In Surgical Eradication of Pyorrhea, Dr. S. H. McAfee, ACL, made use of a very fine closeup technique and, in presenting the preliminary clinical information, plaster models played an important part. The work was shown step by step so that certain points could be watched more closely later on. The very difficult problem of lighting oral surgery for good photography was well handled and the resulting exposure and definition were eminently satisfactory." Movie Makers, Dec. 1933, 524.
---
Date produced: 1933
Filmmaker(s):
Description:
"Under the Maple Leaf, by Hamilton H. Jones, ACL, is a partially refilmed and entirely reedited version of last year's award winner, Canadian Capers. A splendid picture a year ago, its new and additional sequences now bring to the film a photographic beauty plainly of the very first rank. A sequence of the morning mist rising from a lake deserves particular mention. Mr. Jones's considerable skill with his camera has increased in stature and may not yet have reached its full flowering. For this accomplishment his work has been given a place of honor in these selections. In the reluctant estimation of the judges, however, the editing and cutting of Under the Maple Leaf so far lagged behind its generally matchless beauty as to rob the film of its fullest emotional power. This factor only prevented Mr. Jones from repeating this year his full triumph of a year ago." Movie Makers, Dec. 1933, 523-524.
---
Total Pages: 215