---
Date produced: 1942
Filmmaker(s):
Description:
"...describes a Winter excursion to a popular resort." (Ottawa Journal)
"The First Sunday Winter Excursion to Victoria Beach [Manitoba] of February 25th, 1940. The Community Club. Steam train. Dog sled. Snowshoeing. The ice piled up near Patricia Point. Skiing near Moonlight Inn. Curling on rink behind Inn. Victoria Beach station." (LAC description)
---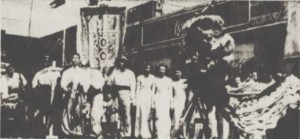 Date produced: 1949
Description:
A film record of Winnipeg's 75th anniversary celebrations. Includes sequences on a Chinese Lion Dance and a Chinese boxing demonstration.
---
Date produced: 1943
Filmmaker(s):
---
Date produced: 1943
Filmmaker(s):
---
Date produced: 1943
Filmmaker(s):
---
Date produced: 1940
Filmmaker(s):
---

Date produced: 1939
Filmmaker(s):
Description:
"Well, Pioneer Daze is all about building the first railroad between Winnipeg and Vancouver. It has no more regard for history than Cecil B. DeMille, but it is not nearly so grandiose about it, which is something to be thankful for." (Winnipeg Free Press)
"It was a prize winner produced by a group of employees of Brigden's Ltd., and gives their version of the building of the C.P.R." (Ottawa Journal)

Also referred to as "Pioneers Days, or Plates Wanted Thursday." (Ottawa Journal)

---
Date produced: 1945
Filmmaker(s):
Description:
"Captain R.T.F. Thompson presented a movie record of a hiking and driving tour of Newfoundland." (Winnipeg Tribune, 7 February 1946 p. 7.)
---
Date produced: 1946
Filmmaker(s):
---
Date produced: 1945
Filmmaker(s):
---
Total Pages: 168