---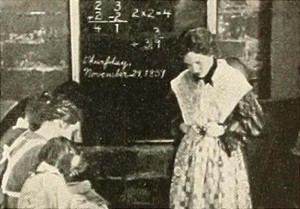 Date produced: 1937
Filmmaker(s):
Description:
"The Birth of St. Mary's, by Robert F. Gowen. is a deeply moving and well nigh incredible accomplishment in amateur film production. Described as a chronicle in retrospect by the church that it pictures, the film moves bravely into the treacherous domain of costume drama and emerges triumphant. To recreate the gracious life of another day, to catch the feeling of its clothes and the flavor of its customs, to stage all of this against settings not only dramatically sound but full of beauty as well — such were but part of the problems of the producer. Perhaps greatest of all was the task of carrying on each step of this work with the willing, but often wilting, help of an entire community, the accomplishment, through infinite patience, of holding this group together for an entire year. Mr. Gowen has done it all superbly well. To this triumph of teamwork he has added sensitive direction, finished acting by his players and genuinely first rank color photography of largely interior setting. A double turntable musical score, carefully selected for historical accuracy, accompanies the production. The Birth of St. Mary's is a loving and lovely testimony, destined to increase steadily in stature as it becomes itself a part of the past." Movie Makers, Dec. 1937, 602-603.
---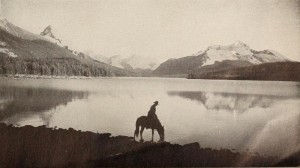 Date produced: 1937
Filmmaker(s):
Description:
"Western Holiday offered one of those thrills in the sequence of sunrise on Mount Robson. Here Kodachrome caught, with what seemed magic, the first rosy glow on the cold, blue snow, which the continuity of photographic motion permitted to increase, to blossom and, finally, to blaze into a chromatic crown of jewels. To see this on the screen is to enjoy a rare experience. Hamilton H. Jones, in the highly intelligent cutting of his train sequences, gave the student of continuity another of these thrills. Those who are charmed by double turntable accompaniment will recognize the perfection with which an almost impossibly difficult feat of lip synchronization with record scoring has been handled. These are some of the higher spots in a film of unusually high general average. Mr. Jones is a Kodachrome movie maker of proved ability, who has made editing a special art. The film chosen for the first Hiram Percy Maxim Memorial Award will be used by Mr. Jones in his work as a lecturer on the vacation advantages of the Dominion of Canada, although it was made as his own enterprise, entirely at his own expense and not for compensation from a client. It is a part of his professional equipment. Briefly reviewed, Western Holiday carries the audience, via Canadian National Railways, from Victoria, Canada's most westerly metropolis, across the Rocky Mountains back to the Eastern Seaboard. Beginning with city views in Victoria and Vancouver, with strikingly colorful parades of the famous Canadian Mounted Police, we visit tourist centers and make trail trips from them. The camera goes into the interior of a glacier, it finds mountain goats and sheep, it clambers over the Continental Divide on horseback. All through the trip, it studies the progress of trains, weaving in and out of tunnels and over bridges. In his personal presentations of this film, Mr. Jones manipulates effects, such as whistles, bells, train noises and other oddments, with something approaching wizardry. In the face of competition of the highest order, Western Holiday is its own justification of preferment." Movie Makers, Dec. 1937, 602.
---
Date produced: 1936
Filmmaker(s):
Description:
"In China's Gifts to the West, we have what may be termed a tour de force of cinematic cutting. The most interesting part of the film is made up of a series of beautifully composed and photographed "stills," but the duration of each of these shots is so carefully timed that the entire sequence is fused into a relationship which conveys a distinct impression of cinematic motion — perhaps not "motion" in the ordinary sense of physical activity, but rather the deeper and more fundamental activity of the mind as it contemplates, one after the other, the various ideas which make up the unity of a conception. This has been accomplished by Mr. Space in his excellent choice of illustrations, which are projected into the mind in exactly the right order and appearance. Beside this purely cinematic achievement, the maker of the film is to be congratulated on his excellent taste in selecting and displaying objects of art to the best advantage. The photographic technique employed in producing closeups and ultra closeups of fabrics, china and other materials is undeniably pretty close to perfection." Movie Makers, Dec. 1936, 551-552.

"A Chinese and an American boy find China's products in the latter's home." The Educational Screen, Jan. 1946, 23.
---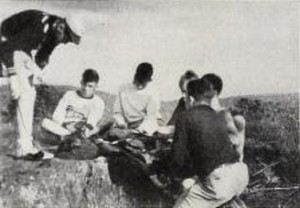 Date produced: 1936
Filmmaker(s):
Description:
"The fact that the film, Camp Pinnacle, made by Robert F. Gowen, was provided with a clear spoken accompaniment served to enhance the workmanlike excellence of its cinematic presentation. Since it was a film made, avowedly, to sell to prospect parents the advantages of Camp Pinnacle, it would hardly have been fair to look for those more delicate nuances of atmosphere and sequence which may become a labor of love in the more personal film. Thus Camp Pinnacle was chosen for its excellence as a straightforward exposition, in glowing color, of every interesting aspect of the lives of the lads and their counselors at camp. In setting this forth, Mr. Gowen has chosen simple, natural sequences and has interpreted these with technical excellence and secure knowledge of the Kodachrome medium." Movie Makers, Dec. 1936, 551.
---
Date produced: 1936
Filmmaker(s):
Description:
"These Bloomin' Plants, by Eugene L. Ritzmann, has been given Honorable Mention because of the striking technical tour de force which it represents. In it, Mr. Ritzmann has pictured, by means of a camera controlled by a mechanism of his own design and construction, the actual blossoming of some half dozen or more flowers. Through this device of time condensation, buds are seen bursting open before one's eyes, often in cascades of beauty which vividly suggest the magic of colored fireworks against a night sky. The technical management of this difficult and esoteric phase of photography was almost without flaw. In the opinion of the judges, however, Mr. Ritzmann failed to do full justice to his material, both in his editing and in his title treatment." Movie Makers, Dec. 1936, 551.
---
Date produced: 1936
Filmmaker(s):
Description:
"Misdirected medical research, with gruesome and very exciting consequences, is the basis of the plot of The Scalpel, a photoplay produced by Richard H. Lyford, with the aid of a group of boys and girls of high school age. The plot is extravagant, the story is rather too filled with amazing action, and there is not a doubt that the melodrama as a whole puts too great a burden on the acting ability of a group of young people, even though they are surprisingly able. Nevertheless, here is an amateur made thriller of the Frankenstein and werwolf tradition that really sends chills chasing down your spine. The transition of the unfortunate doctor into a demented and abnormal creature involved makeup that is really astonishing outside of a theatrical studio. It can't be said that the handling of the episode is any less convincing in this amateur production than are the same undertakings in the best Hollywood films of this nature. In addition to being really successful in its object, this picture offers some excellent technical work and very competent management of a large cast." Movie Makers, Dec. 1936, 550-551.
---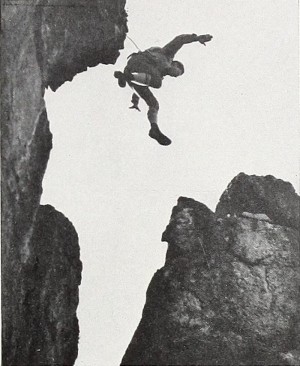 Date produced: 1936
Filmmaker(s):
Description:
"The Mountaineers Club Teton Expedition, made by Ray Garner, tells the story of several young men who did some real mountain climbing among the peaks of famous Western mountains. A most interesting introduction, showing briefly the various types of climbing, prepared the audience for some of the amazing sequences later on. Remarkable attention to human interest details sustains the entertainment quality throughout and, when the actual climbing starts, the thrills are second to none. The agility of the cameraman contributed greatly to the effectiveness of the film." Movie Makers, Dec, 1936, 550.
---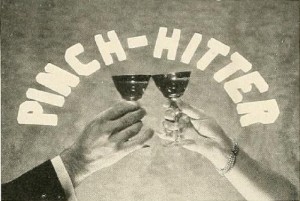 Date produced: 1936
Filmmaker(s):
Description:
"Pinch Hitter, a photoplay by Charles J. Cafbonaro, has been given Honorable Mention because of its continuously sustained technical brilliance in the face of many problems of cinematic story telling. A suave situation comedy, it presents the dilemma of a girl who is asked once too often by her roommate to substitute for her on a temporarily undesired date. In time, the pinch hitter goes to bat for herself, knocks out a home run and leaves her roommate caught flat footedly out. In presenting this comedy of manners, Mr. Carbonaro has been helped by good acting from his players but hindered by not quite a light enough touch in the film's pace and direction. The lighting and camera work, which are genuinely of top flight quality, go far but not quite far enough in disguising this one weakness." Movie Makers, Dec. 1936, 550.
---
Date produced: 1936
Filmmaker(s):
Description:
"In Love Apples, Henry Hoke presented what is, so far as Movie Makers records show, the first approach to filming the hobby and preoccupation of an entire family. Unquestionably the Hoke family likes tomatoes and, something less commonly encountered, it is willing to work to produce them. Mr. Hoke's Kodachrome film lets us see the entire family group at work planting, weeding, watering and picking — especially picking, because Mr. Hoke makes quite a cinematic point of eager hands reaching for tomatoes in and out of season. The continuity is active and full of humorous touches, with a shade too great an emphasis on camera tricks for their own sake; the photography is adequate and often provides much screen beauty. Above all, this film has a unity which, added to its unusual motive, brings it into the Honorable Mention class." Movie Makers, Dec. 1936, 549-550.
---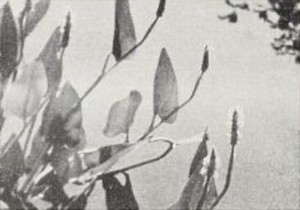 Date produced: 1936
Filmmaker(s):
Description:
"In Consider The Lilies, Fred C. Ells, producer last year of the beautiful In The Beginning, continues his tender and loving examination of the natural world. When, at the close of this year's competition, his entry of 200 feet of 16mm. Kodachrome was viewed by the judges, it was found to be just that and nothing more. The lead title assembly, which was to be completed before the Ten Best deadline, had not arrived. But, in the half reel of chromatic flower studies which the judges were able to review, Mr. Ells has distilled a delicate beauty and lyric worship of flowers of the field which are breathtaking in their perfection. Seldom has the motion picture transmuted such pure loveliness from field to fireside." Movie Makers, Dec. 1936, 549.
---
Total Pages: 209