---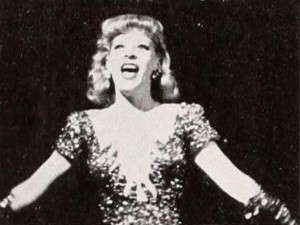 Date produced: 1944
Filmmaker(s):
Description:
"Oscar H. Horovitz had, obviously, a certain amount of influence aiding his production of Follow the Girls, a motion picture study of the Gertrude Niesen musical comedy. This fact, however, does not explain the secret of his success. Others before him have had influence behind their filming of such dramatic spectacles as the circus, indoor ice carnivals, pageants and assorted stage shows. The influence did not help; their filming remained but a record, immobile and inanimate between the confines of a proscenium arch. Not so in Follow the Girls! Although executed with brilliant technical ability, the paramount triumph of this picture is its prevailing and sure sense of genuine cinematics. The cameraman seems to have been everywhere — on stage and off. Scenes of an ensemble or of a single singer cut in complete confidence from long shot to medium to closeup, without missing so much as a shoe tap. Follow the Girls, besides being lively and colorful entertainment, should serve as a model for all future personal movies of its kind and as an important record of this era of entertainment." Movie Makers, Dec. 1944, 477, 494.
---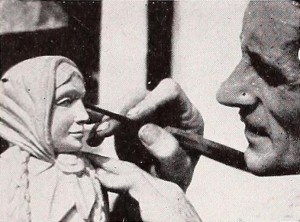 Date produced: 1943
Filmmaker(s):
Description:
"Nine times a place winner in seven years of Ten Best competition, Frank E. Gunnell has probably done his best work to date in Baie St. Paul. The film is a bright and sunny visit to the little French Canadian parish of that name, nestling in parochial contentment along the St. Lawrence. Central in this existence stands the baroque and inevitable church, while about it one finds the familiar family names of the village butcher and baker, doctor and dressmaker, recurrent along the cobbled highways. Here too is an intent, sharp featured little woodcarver, a housewife coolly competent about her embroidery and an aloof mademoiselle who presides with dazzling beauty over an ancient spinning wheel. Packed with this essential human interest, Baie St. Paul was filmed with the sparkling competence that one has for years expected from a Gunnell production. Its editing fits shrewdly into the pastoral mood of the subject matter, while its titles, both in their wording and execution, are colorful and in good taste. Baie St. Paul should take a high and honored place in the Gunnell catalog of fine films." Movie Makers, Dec. 1944, 477.
---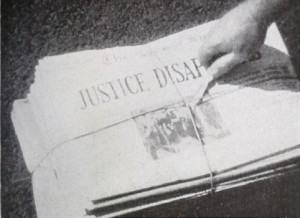 Date produced: 1944
Filmmaker(s):
Description:
"The 1944 Hiram Percy Maxim Memorial Award film, In His Own Judgement, is the distinguished expression of the mature thought of a generous, broad and rich mind. With all the individualism of Henry Thoreau, whose philosophy the picture exemplifies, Joseph J. Harley has lifted up his eyes unto the hills and to the lonely places of nature and has brought from them a finely sincere, dramatic story that declares his own credo of man's healing.The tale is simple. A jurist, on the verge of a nervous collapse, disappears and finds refuge from terror and confusion in a lonely wooded retreat. Almost identified, after some years, by two young girls who meet him by chance, he tells them the tale of "a missing judge" in retrospective sequences. Although nearly convinced that he is the long sought man, they decline to earn the reward offered for news of him and leave him in peace. In cinematography, direction, action, dramatic construction and realization of beauty, Mr. Harley's film is of high quality. The tense horror of the overworked jurist in the crowded city is followed by the rest which he finds in solitude. The words of the Psalms comfort him and bring him "peace at the last." They are exquisitely read in a special recording. Mr. Harley was greatly aided in his two long years of labor on the picture by the fine and sincere work of his brother in law, Charles Hooker, who assumed the role of the judge with authority and restraint. The whole film is beautifully integrated by phonograph with the music of Dvorak's violoncello concerto in B minor, Liszt's Les Preludes, Goldmark's Rustic Wedding Symphony, Brahms's Tragic Symphony, Sibelius's Karelia Suite and one of the Slavonic dances of Dvorak. These provide the sole musical contribution. Mr. Harley, an engineering executive for a large corporation, has put into this remarkable film a breadth of culture acquired in two continents, the authority of a man who has looked at life and has come to conclusions about it and the creative fire and disciplined achievement of a real artist." Movie Makers, Dec. 1944, 476-477.
---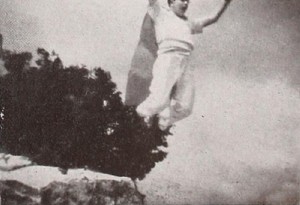 Date produced: 1943
Filmmaker(s):
Description:
"Donald H. Kelly has cast a comic strip character in Superman Goes West, integrating travel sequences and comedy with great success. While the magnificent cinematographic record of a Western trip is the most engaging factor of the film, the entertainment value of the Superman motif cannot be minimized. The fictional hero is shown to be the consuming interest of a small boy passenger on the trip. The lad proceeds to read Superman comics under varying conditions, despite a changing background of allegedly awe inspiring scenery. One dream sequence with a Superman flavor is a triumph of trick cinematography." Movie Makers, Dec. 1943, 478.
---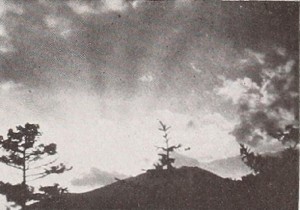 Date produced: 1943
Filmmaker(s):
Description:
"September Peace, Robert P. Kehoe will tell you, is a film which not only made itself but named itself. It is, patently, a product of this world at war, the unconscious reaction of a sensitive spirit too long abraded by the rough edges of conflict. In it, Mr. Kehoe has found again the lyric loveliness of field and flower, the beneficent sturdiness of great trees, the warmth and beauty of the slanting sunlight. Unusually effective scoring plays its part in creating this moving attestation to the joys of peace." Movie Makers, Dec. 1943, 478.
---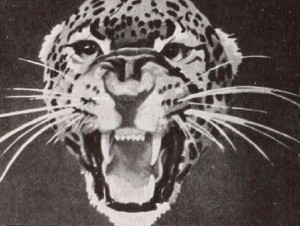 Date produced: 1943
Filmmaker(s):
Description:
"Competence plus completeness distinguish Ringling Brothers and Barnum & Bailey Circus. Oscar H. Horovitz started his film with sequences of the circus's winter quarters in Florida and followed it as it entrained for Northern performances. Unloading the circus comes next, and, after informal views of the crews at work setting up tents and the performers preparing for work, there is a complete picture of the show in the big top. The quality of the lighting, although limited by the amount of illumination provided by the circus, is still astonishingly good. Even better is the sequencing of the scenes of the performances, for Mr. Horovitz succeeds in altering his camera positions almost as freely as if the circus were staged especially for him." Movie Makers, Dec. 1943, 478.
---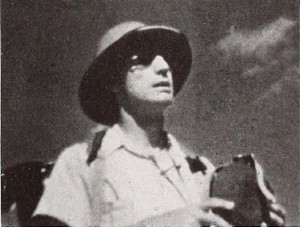 Date produced: 1943
Filmmaker(s):
Description:
"Rainbow Fantasy, in the words of Charles C. Hammack, is "an attempt to produce — not a conventional travelog — but more a story of adventure, a hiking adventure to what is probably one of the least visited of our national monuments, Rainbow Bridge, in southeastern Utah." In achieving this goal, Mr. Hammack has been largely and creditably successful. For him and his young wife, Rainbow Bridge takes on the aura of a lost horizon, a Shangri La protected from the outside world by the blistering desert heat and the brutal desert rocks. He brings this overtone of feeling to his film, both through his imaginative camera treatment of the subject and the intentionally dramatic acting of the two travelers. Mr. Hammack's is a new name in Ten Best competition, but it is one which we believe will be heard again."Movie Makers, Dec. 1943, 478.
---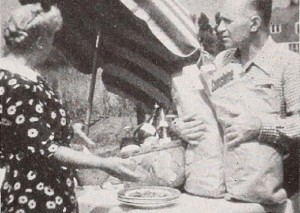 Date produced: 1943
Filmmaker(s):
Description:
"George Mesaros, who has demonstrated his competence as a maker of good movies in other fields, turns to humor in this film comment on wartime conditions. The point of the story — for it is the foray and not the tale that is pointless — turns on providing for a picnic in the yard of the home. While the master of the house is shopping with ration points, the skeptical family gets, from the Victory garden, cooks and eats the alfresco feast, at the end of which Father — who really did find something in the shops — returns with loaded arms. First class Kodachrome pictures and a well knit continuity are used by Mr. Mesaros to bring to American audiences something of the spirit of easy and natural outdoor fun with food that for so long characterized the Europe of happy memory. Some of the scenes of cooking are so realistic that one almost reaches for what is shown on the screen." Movie Makers, Dec. 1943, 478.
---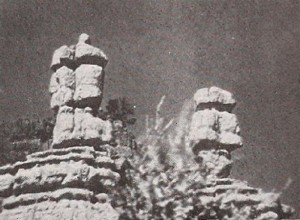 Date produced: 1943
Filmmaker(s):
Description:
"Parks of Paradise was originally intended as a 2000 foot pictorial travelog that would cover every national park and monument in the United States, but travel conditions enforced a limitation, so Norris Smitley has confined the scope to include only the national parks of the Southwest, permitting a more detailed presentation of the material used. Many unusual scenes of popular subjects are shown in the picture, which is further distinguished by beautiful color and meticulous cinematography." Movie Makers, Dec. 1943, 478.
---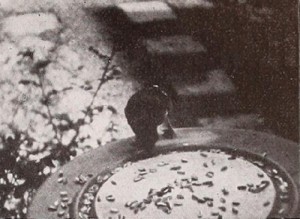 Date produced: 1943
Filmmaker(s):
Description:
"Our Boisterous Bluejays is a remarkable study of bird life, filled with intimate shots that are among the best ornithologic cinematography on record. Mrs. Warner Seely, who produced this film, has become an expert at picturing birds in their natural habitat, and she shows the bluejay at every stage of development." Movie Makers, Dec. 1943, 478.
---
Total Pages: 209