---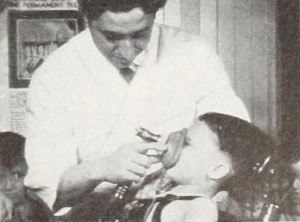 Date produced: 1942
Filmmaker(s):
Description:
"Morton H. Read has made, in Teeth and Good Health, an effective study of the work accomplished by the Dental Clinic of the Public Schools of Springfield, Mass. This film should be of great interest to educators whose institutions offer a similar service to children of grade school age. The picture lucidly outlines the program followed by the teachers, nurses and doctors in the system set up by this school, to facilitate caring for the children's teeth. Charts and diagrams that warn the children of the danger of neglected teeth are shown, as well as excellent shots of the dentists at work. Thus, through familiarizing youngsters with the importance of dental care and its mechanics, the child is taught not to fear the dentist. A recalcitrant mother serves as a focal point for the detailed explanation of the advantages of the dental program in the school. The filming is marked by competent cinematography, logical sequence arrangement and simplification of detail." Movie Makers, Dec. 1942, 509-510.
---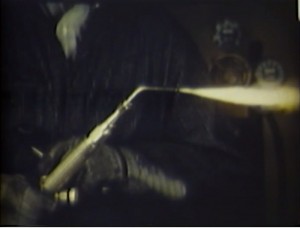 Date produced: 1942
Filmmaker(s):
Description:
"Good teaching films are not easy to produce, and welding activities are not easy to film. In making this picture, Ray Garner and the Harmon Foundation have solved both problems in a highly satisfactory manner. The procedures are clearly and simply outlined in titles which are combined with unusually fine camera work, to produce a well integrated whole. Done almost entirely in closeups, the actual welding scenes show perfect exposure and, in many instances, very interesting angles. The film was made at Hampton Institute, in Virginia, and a student demonstrates the proper techniques in procedure. The title art work was especially good in this film, and the entire production showed the effects of a well organized plan and a careful procedure." Movie Makers, Dec. 1942, 509.
---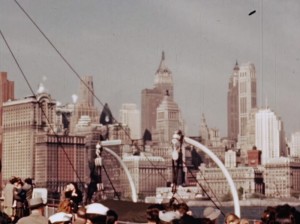 Date produced: 1942
Filmmaker(s):
Description:
"Most of the residents of New York City know that the world's metropolis is something more than a play place for sensation hunters. But, if one were to judge from many films of New York City, the conclusion would be inevitable that the urban settlement at the mouth of the Hudson River is chiefly devoted to night clubs and parades and is populated largely by those who frequent them. In New York Calling, made for the New York Central System, of which he is supervisor of the Motion Picture Bureau, Frederick G. Beach has presented the New York Central's eastern terminal city as a reasonable and understandable place, where sane people live and to which a man may bring or send his family for a holiday without wondering if they will survive the experience. Made for showing to families, Mr. Beach's excellent Kodachrome footage covers the best of New York City with an apparently effortless leisure, in spite of its brevity. Including many different phases of a great city, the picture has a generous amount of well made closeups. Things that will interest children are strikingly presented. If this reviewer did not already live in New York City, Mr. Beach's movie, with excellent narrative and music, would be the best possible argument for him to change his residence. It certainly will prove to be persuasive in the days when railroads can again urge us to travel for pleasure." Movie Makers, Dec. 1942, 508-509.
---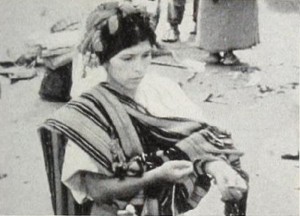 Date produced: 1942
Filmmaker(s):
Description:
"Living Mayas of Guatemala is a detailed study of human ways which explains enough, as it goes along, to give those who see it a feeling of intimacy with the strange customs that are recorded. There have been special film studies of the descendents of the great Central Americans of the past, and these have singled out some particular phase of Mayan life. Giles G. Healey has set himself a larger task, in interpreting the unity of the modern Mayas by following them through each day of a week. We see them at home, at work, at play and engaged with singular devotion in religious observances. These major sequences of the various days are full, and, for the most part, adequately filmed. Action is not posed, and the audience shares with the cameraman the feeling of observing something so vital as to make the filmer's presence entirely incidental. The final portion of Mr. Healey's movie offers a fine record of the special religious ceremony at Chichicastenango. A deficiency of illumination, although a cinematographic detraction, does not destroy the illusion of participation in the communal devotions. Here is an important contribution to the study of folkways, done attentively, intelligently and interestingly." Movie Makers, Dec. 1942, 508.
---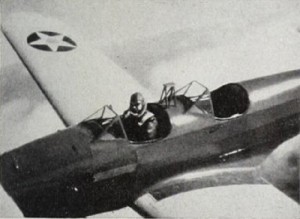 Date produced: 1942
Filmmaker(s):
Description:
"The sound design and simplicity of operation of the Fairchild PT-19 Trainer are made crystal clear in the film of that name, produced for the Fairchild Aviation Corporation by Willard Pictures. A trade abbreviation for "Primary Trainer, Model 19," the title introduces a slim gold and blue aircraft which has become the familiar of thousands of young men trained in our fighting air forces. The outstanding feature of the ship is its low wing, monoplane design, duplicating (as closely as could be possible in a low powered trainer) the flight characteristics of a 2000 horsepower fighter. The Willard film brings out this point and others with factual clarity and cinematic distinction. The narrative is sparing and straightforward, with sound effects and music held to that wise minimum which does not overshadow the essential message." Movie Makers, Dec. 1942, 508.
---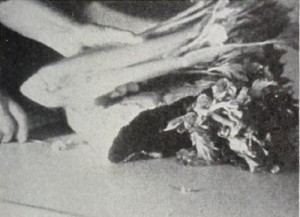 Date produced: 1942
Filmmaker(s):
Description:
"White Hearts, filmed by William R. Hutchinson, whose Blossom Forth the Fruit placed in Ten Best last year, presents further evidence of Mr. Hutchinson's understanding of the treatment necessary in handling progressive developments in nature when it is used for educational subjects. This story of celery raising begins with shots of farmers preparing the rich black soil and concludes with sequences showing the produce, packaged, ready for shipment. One of the difficulties overcome was the achievement of variety of value in the scenes showing the white celery stalks in contrast with extremely dark earth. Human interest is introduced by including intimate shots of the workers. Logical progression, interesting compositional effects and a genuine feeling for texture and tactile values make this a fine study picture." Movie Makers, Dec. 1942, 508.
---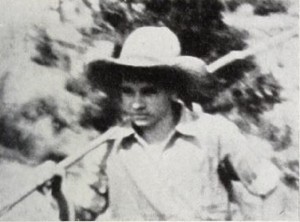 Date produced: 1942
Filmmaker(s):
Description:
"The Utah Trail is what its producers call a "Cine Musical." In it, Al Morton and his wife have attempted to illustrate in movies a ballad which charmed them and to pay tribute pictorially to a region which they loved. They have been largely successful. The film's continuity is fluid and well integrated; the camera work is uniformly excellent and the double exposed color titles add greatly to the picture's feeling of competence and craftsmanship. Perhaps the Mortons' finest achievement in this production is the care and intelligence with which they have cut their footage to fit the ballad of their choice. The Utah Trail is a charming and colorful tribute to a well loved land." Movie Makers, Dec. 1942, 508.
---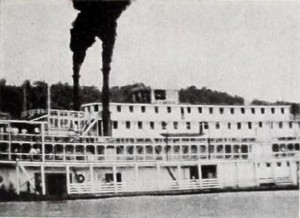 Date produced: 1942
Filmmaker(s):
Description:
"The romance and color of a trip down the Ohio River on one of the Greene Lines few remaining flat bottomed passenger steamers are used to good advantage by Sidney Moritz in Sternwheeler Odyssey. The variety of the passing landscape, stops at wharves en route, with all the confusion of ropes, cargo and roustabouts, and general views of the stately river traffic plying the waterways gives this friendly little picture a touch of glamour. On board, the passengers and crew including "Ma" Greene, America's only woman river captain, present lively camera material. The churning paddle wheel, filmed from various angles, and the cascading waters that flatten into arcs of waves in the wake of the boat, become a motif that sustains the feeling of a ship in motion throughout the picture." Movie Makers, Dec. 1942, 508.
---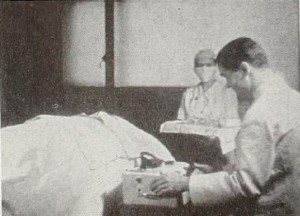 Date produced: 1942
Filmmaker(s):
Description:
"We have seen many medical and surgical films made by Dr. Robert Mallory, III, and most of them have been excellent. This one, however, a picturization of an extremely delicate operation on the eye, surpasses them all. It is a suave and exact record of the complete operation, featuring splendid full frame closeups of the eyeball. The exposure and filming technique are flawless except for one or two scenes in slightly soft focus. We are well aware of the difficulties encountered in making a film of this kind, and we feel that Dr. Mallory has scored a distinct triumph here. He is an exceptionally neat worker, and the entire film shows the effects of care in production and editing. Movie makers who have aspirations to become filmers of medical or surgical material could well take this film for a pattern." Movie Makers, Dec. 1942, 508.
---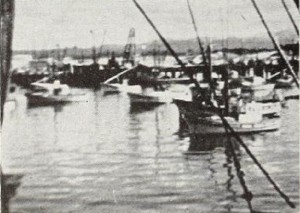 Date produced: 1942
Filmmaker(s):
Description:
"Kenneth L. Lockwood is a newcomer to the tourney of Ten Best competition, but with Monterey Peninsula he seems to serve notice that his is a name with which to reckon. There is, throughout his immaculate 8mm. Kodachrome, a feeling of craftsmanship and care. Add to these fundamentals an unerring sense of composition and a nice eye for the importance of human interest — and you have an award winner in the making. Mr. Lockwood brings to the screen not only the windblown cedars and sun drenched missions, familiar symbols of the Monterey foreshore, but the life of its waterfront as well, redolent of fish, tarred nets and crabs steaming in a deep bellied kettle. One looks forward with interest to further work from this talented initiate." Movie Makers, Dec. 1942, 508.
---
Total Pages: 206