---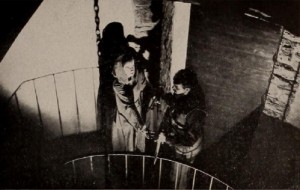 Date produced: 1947
Filmmaker(s):
Description:
"David Bradley, the dynamic heart of Willow Films, producers of Macbeth, has behind him a long and amazing record of outstanding dramatic pictures. Among these are his productions of The Christmas Carol and Oliver Twist, by Charles Dickens; Emperor Jones, by Eugene O'Neill, and Peer Gynt, by Henrik Ibsen. His Macbeth is the greatest of them all. And in a sense, this moving evocation of the brooding Shakespearian tragedy is the end product of them all — since, in it, Mr. Bradley's creative and cinematic abilities have come fully and splendidly of age. The character of this brilliant achievement may perhaps best be illumined by Mr. Bradley's own words from his plans for the film. "We realized clearly," he has written, "that the strength of our Macbeth must be found in stimulating cinematic treatment, portrayed with such angular camera compositions as to suggest the twisted, supernatural aspects of the drama. We planned our lighting for harsh contrasts and textures, so that, on occasion, the brooding menace of cold, murky stone could almost be felt. For our Macbeth was to be, above all, a movie, depending on atmosphere more than acting, 'punch' more than pomp, for its ultimate success or failure." That it has been success, not failure, is rewardingly the case." Movie Makers, Dec. 1947, 534, 536.
---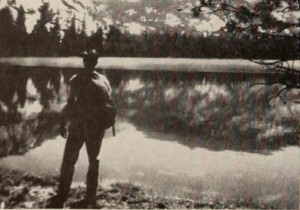 Date produced: 1947
Filmmaker(s):
Description:
"Filming Yosemite National Park with the same refreshing wit that has made his earlier movie on the Utah parks so popular, Stanley Midgley has even surpassed his previous camera work with spectacular angle shots of the famous waterfalls and brilliantly planned pans which heighten the grandeur of this great glacial valley. In the lighter vein, a fast motion sequence of tourist posturings before the Sequoia trees provides some side splitting satire, while the magnificence of the firefall, the High Country and the mirror like lakes is emphasized by imaginative framing. Always the trail blazer, Mr. Midgley scaled Half Dome with his camera; in other sequences, he apparently conspired with an eagle to get some of the dizzier shots of sheer cliffs and precipitous falls. Yosemite on Two Wheels — and Two Feet is a rare blend of humor and technical skill, an artistic achievement that sets a new high in national park filming." Movie Makers, Dec. 1947, 534.
---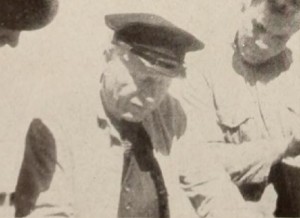 Date produced: 1947
Filmmaker(s):
Description:
"Bringing the flavor of Europe and its people that we all like to remember, Skibet, Danish for ship, tells the story of the building of the G. C. Amdrup, a modern motor vessel with a wooden hull. The saga is carried from cutting the massive tree which becomes the keel of the ship to the final addition of paint and superstructure. Mown in from Denmark to the Danish Consulate in New York City, and from there transported to Movie Makers office, Otto Wilhjelm's film portrays the incredible amount of hand labor used in constructing a ship without the help of modern power equipment, considered a necessity in the United States. It provides the nostalgia of a great individual craftsmanship. As to the G. C. Amdrup herself, it seems safe to say — after watching the solid chunks of wood being sawed, planed and bolted snugly to the crossbeams — that she will be sailing her northern run long after our Victory ships have rusted away." Movie Makers, Dec. 1947, 534.
---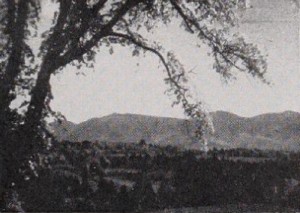 Date produced: 1947
Filmmaker(s):
Description:
"Hamilton H. Jones has again shown his marvelous ability to combine beautiful movies and fine music on the double turntable into a cinematic whole that, in New England Autumn, carries an audience through the calm delight of fall days to a climax that has great dignity and spiritual stimulation. We see autumn in its most restful and wistful mood, and the action is slowly paced in harmony with the dying year. There is leisurely strolling in the many hued woods. The leaves on the ground are scuffed through and gently scattered. We see the things that we all like to do in the forests in autumn. Finally, in an arresting sequence of autumn fruits — great, gleaming pumpkins and ruddy apples — the music turns to the inspiriting old Dutch hymn of thanksgiving. Rising first orchestrally and then voiced by a thousand singers, the chorus ends as our eyes are lifted to the simple spire of a New England church. Here is suavity, here is intelligent movie making and here are dignity and spiritual uplift." Movie Makers, Dec. 1947, 534.
---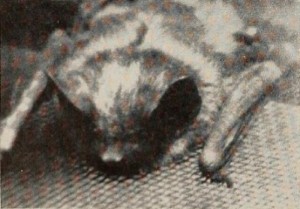 Date produced: 1947
Filmmaker(s):
Description:
"Francis M. Spoonogle apparently keeps a large family of snakes, bats, bugs, slugs and praying mantises in his backyard, to talk to in his idle moments. It is a fascinating collection, though most of us would probably be just as well satisfied with a couple of dogs and cats. At any rate, in Movie Menagerie Mr. Spoonogle exhibits his prizes in some of the finest ultra-closeup studies ever to reach the 8mm. screen. Although playing on a small stage, his creatures seem quite uninhibited during their brief periods of stardom. For instance, the favorite pastime of the female mantis seems to be eating all other types of small life (including her husbands) which might offer interesting digestive experiences. Many of Mr. Spoonogle's other characters are of a sweeter nature, however, and the film does not leave you feeling hopeless about nature by any means." Movie Makers, Dec. 1947, 534.
---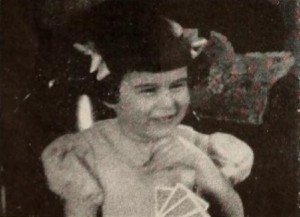 Date produced: 1947
Filmmaker(s):
Description:
"Two children and a simple plot are ideal ingredients for a family film story. In Magic Stairway, Margaret and Harlan M. Webber have used this combination to develop a lively and natural movie of their son Roy and their daughter Janet. Roy longs for a punching bag for Christmas, but he feels that it is a too expensive gift to expect from his parents. He decides to earn the money for it with the help of his young sister. In beautifully filmed sequences, the children are shown melting castoff candles and remolding them into delicate shapes, to be sold to the neighbors. The profits mount slowly until the desired goal is reached. Then tragedy strikes when Janet accidentally breaks one of Mother's treasured teacups. The direction and cutting in this sequence are particularly skillful, as each person's reaction to the broken cup is registered. All is harmony on Christmas morning when Mother's gift from the children (bought with the punching bag money) is revealed as a replacement of the broken treasure. Needless to say, the children fare handsomely, with the punching bag starring as the climactic present. Faultless camera work and intelligent direction of the children contribute to make this film far above the average." Movie Makers, Dec. 1947, 514.
---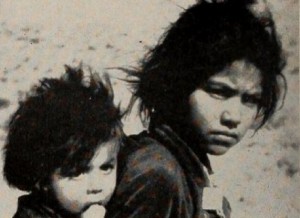 Date produced: 1947
Filmmaker(s):
Description:
"In Dineh, Henry E. Hird. whose broad sympathies have brought his talents to bear upon so many unselfish projects, has taken up an effective cudgel in behalf of the Navajo Indians in the United States. Dineh, "The People," is the Navajo word for their tribe. Mr. Hird went to the Navajo country with the simple purpose of making a record film of that proud and self reliant Indian people. From what he saw there and from his conversations with many Indian citizens, he became convinced that now, if ever, the Navajos need understanding and practical aid. His film, therefore, not only accomplishes his primary aim — of recording an interesting racial group — but, in scenes and particularly in narrative, it pleads the economic and social case of the Navajos. Mr. Hird's cinematography is of very high order, as is usual in his films. His continuity is intelligent and interesting, and his narrative is a fine plea for a worthy segment of the citizenship of the United States." Movie Makers, Dec. 1947, 514.
---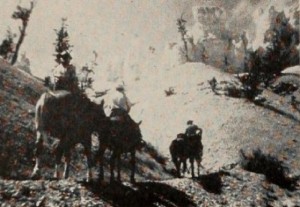 Date produced: 1947
Filmmaker(s):
Description:
"In a land that abounds in colorful formations, Frank Gunnell's discerning camera has recorded in appealing detail the less usual, as well as the familiar, views of Bryce Canyon. This thorough coverage of a popular national park is enhanced by pleasant scenes of a pack trip, closeups of the darting antics of a chipmunk and a "running gag" of the hungry cameraman, whose equipment .cases carry edibles with film and filters. Bryce Canyon Trails provides the audience with a wholly entertaining tour of this famous and awesome natural wonder. Mr. Gunnell, as always, presents breath taking camera work in his integrated and admirable reproduction of a vast canvas." Movie Makers, Dec. 1947, 514.
---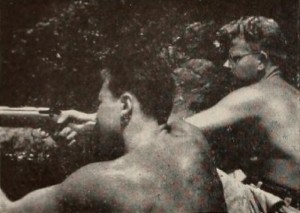 Date produced: 1947
Filmmaker(s):
Description:
"It takes a true craftsman to catch all the intimate and informal scenes that make a first rate vacation film, particularly when his exposure problems are complicated by the sunlight and shadows of a thickly wooded lake shore. But George Mesaros has succeeded in producing the sort of vacation record that most filmers only dream about. Mr. Mesaros has mastered his technical problems with an expert's hand and has turned out a stunning, vital movie of a summer outing in the Saranac Lake region. Faced with non-cooperative fellow campers, he had to be prepared to set up his tripod at a moment's notice; but the candid air of the proceedings on the screen is ample recompense for his vigilance. Bluff Island Idyll is a vivid testament to the importance of human interest and to the appeal of simple, everyday activities when they are properly sequenced and edited." Movie Makers, Dec. 1947, 513.
---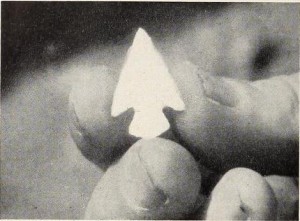 Date produced: 1947
Filmmaker(s):
Description:
"Adventure on the Colorado, by Al Morton, comprises 1,600 feet of film and (at twenty four frames a second) forty eight minutes of screen time. In it, six men in two boats travel down the Colorado River from Moab, in southeastern Utah, to Lee's Ferry, in northern Arizona. Taking fifteen days, the trip covered some 300 miles, forty of which were through cataracts already claiming twenty nine lives. These are the bare and simple facts of the case. But these facts cannot begin to tell the story of Mr. Mortons epic adventure. And mind you, we are not concerned here with the breath taking dangers of the trip itself — although these alone were awesome and challenging. We are concerned only with Mr. Morton's filming adventures and the bright, indomitable story of them as recorded so stirringly in his film. That story is one of inflexible resolve against all compromise, even in the face of well nigh impossible circumstance. At one point in the picture, Mr. Morton shows us a rugged and precipitous approach to the river known as "Hole in the Rock." It was through this narrow passage that, years ago, a little band of Mormons, sent to colonize the San Juan country, brought their wagons and their belongings. In laces where the chasm had narrowed so sharply as to block the cavalcade, they dismantled the wagons and packed them through on their backs. For they had set out to cross the river — and cross it they did. Mr. Morton's filming resolve must have been of that same high order — almost religious in its intensity. As the down-river journey grew ever more arduous, you waited with sympathetic understanding for those not quite perfect scenes which the incredible conditions must surely dictate. You were ready to make allowances, to accept the imperfect as relative perfection --under the circumstances. Not so with Mr. Morion. There was no compromise with quality in the Morton picture plan. He set out to film the river, and film it he did. Adventure on, the Colorado is a moving and splendid epic, recording both a gallant adventure and a glowing achievement." Movie Makers, Dec. 1947, 513.
---
Total Pages: 209