---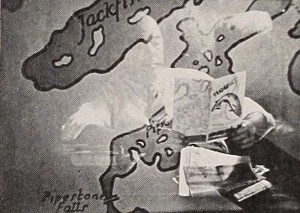 Date produced: 1939
Filmmaker(s):
Description:
"No better example of human interest in a vacation film will be seen for a long time to come than was exhibited in Two Perfect Weeks, made by Walter F. Hinkle. Strangely enough, there was practically no material of actually catching fish, yet the film gives one the impression that the party consisted of all genuine fishermen and that no more dyed in the wool sportsmen could be found than these happy vacationists. Starting with a clever introduction, the film moves rapidly along into camp. Here, a most handsome array of interest packed close shots serves to tell the story of tired business men at play, until the entire audience is ready to sit down and enjoy a meal of freshly cooked fish. The film ends in a novel way. To signalize the return to civilization, each member of the party is seen shaving off the beard that grew during the two weeks at camp. Although each of the group is introduced by means of a different type of activity, the picturization is at no time slow or dull. The secret lay in the fact that there was no "monkey business" in front of the camera, but rather a good collection of intimate views of the persons going about their various tasks. The color titles are well executed." Movie Makers, Dec. 1939, 632-633.
---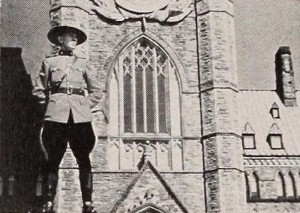 Date produced: 1939
Filmmaker(s):
Description:
"Sweeping in its conception, stirring in its execution, Then Came the King is a vivid and beautiful epic of honest patriotism. In it, Earl L. Clark has examined the Western way of life, and he has found it good. With elaborate but never exhausting detail, the film traces the history of Canada — and more briefly her American neighbor — from 1800 to the present day. Then, in a world challenged by war and a Canada accused of waning fealty to the Empire, Then Came the King pictures with a magnificent climax the deep and unfaltering affection in which a loyal people hold their rulers. People of all classes and occupations are shown saluting Their Majesties. Sensitively planned and superbly titled, the film very definitely has something to say — and says it with distinction. Viewpoint after viewpoint strikes sensuously on the eye as exactly right for the effect desired. Sequence after sequence marches down the screen with the brave and stirring rhythms of epic poetry. On a few occasions, Mr. Clark's striking imagination has outstripped his straining technical skill, but. from his first frame to his last, the work is stamped unerringly with a fresh and genuine creative spirit." Movie Makers, Dec. 1939, 632.
---
Date produced: 1939
Filmmaker(s):
Description:
"When you ramble about on a cinematic tour of old Quebec in Carl Nerish's St. Lawrence Sketches, you feel that here at last is a new and different theme for the travel film. The Old World atmosphere of that delightful city is shown with loving sympathy. One of the outstanding points is a clever and human continuity device employed to carry the story along during a tour of the city in a horse drawn carriage. Spoken titles are used with striking closeups of the quaint cab driver who is pointing out the sights to Mr. Nerish and his audience. By studying each shot of the driver, Mr. Nerish was able not only to present a varied series of shots of him, but also to show enough background material to add a good deal to the scenes presented in the regular course of the film. Equally effective are the shots of people in the market place, where a telephoto enables Mr. Nerish to get unposed views. A carefully chosen, but somewhat detailed, musical background was played throughout the film, and it served in no small measure to lend atmosphere to the production. Special credit is due the filmer for his precisely executed titles. Such painstaking work as that involved in centering and lining up movable title letters is seldom seen." Movie Makers, Dec. 1939, 632.
---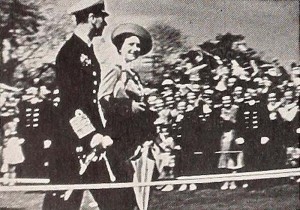 Date produced: 1939
Filmmaker(s):
Description:
"What we have all wished a newsreel presentation of an important event could be has at last been brought to actuality by T. J. Courtney in his fine Kodachrome film Royal Visit — Halifax 1939. Let us hasten to add, also, that this film, besides being the apotheosis of the newsreel presents a carefully connected story of the events of the long anticipated day of the Royal visit in his city. Chiefly outstanding is the skillful and always appropriate use of closeups and atmosphere shots made with great care before, during and after the event and cut in with real skill to heighten the effect. But, most of all, the film is remarkable for its pace and sincere interpretation of public feeling; the early preparations for the Royal visit; the breathless expectation; the high enthusiasm at the time of Their Majesties' appearance, the promise of long remembrance at their departure — all these are clearly shown by Mr. Courtney's cinematic commentary. The complications that must have confronted him on this exciting day must be considered in our approval, too. He succeeded admirably in picturing the general excitement and enthusiasm, but at no time did his camera desert its steady support and accurate framing of the principal subject. The natural, close shots of the King and Queen are unsurpassed." Movie Makers, Dec. 1939, 632.
---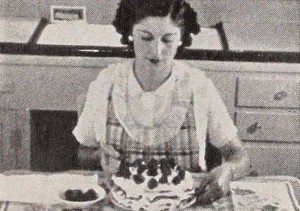 Date produced: 1939
Filmmaker(s):
Description:
"Within the brief confines of Lady on June Street, Leo Caloia presents a satisfying example of the personality film worked out in story form. Faced with the common problem of family filming, he has resolved the riddle with imagination, humor and marked cinematic ability. The "lady" in question is pictured as a lazy, luxury loving wife, spiritually eager to be the best of helpmates, but physically enslaved to satins and sweetmeats. Dozing, as she regards with languorous ambition an advertisement for homemade shortcake, she dreams vividly of a sweet but unaccustomed success with pot and pan. Crash! In her dream, the lady slips, and her magnificent shortcake slithers across the kitchen linoleum. Bump! In reality, she has rolled sleepily from her couch, to awake with a thud on the living room floor. The film fades swiftly as she hurries the tops off canned beans and sauerkraut." Movie Makers, Dec. 1939, 632.
---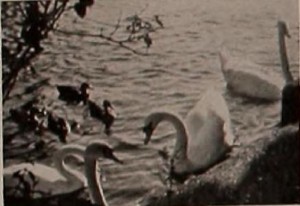 Date produced: 1939
Filmmaker(s):
Description:
"In Linden Lea is A. Scott Moorhouse's tribute to a mother land, a tribute paid with distinction and an admirable warmth of feeling. We go to the English countryside, where Mr. Moorhouse sings, in film, the ancient refrain that Chaucer, Shakespeare, Gray, Wordsworth, Jefferies, Kipling and Brooke lifted in the English tongue. It is Mr. Moorhouse's good fortune and his sound cinematic ability that have permitted him to bring what he feels so strongly in a very direct fashion to his audience. His is the last sight of a peaceful England, recorded with vibrant emotion. "Rainbows; and the blue bitter smoke of wood; "And radiant raindrops couching in cool flowers; "And flowers themselves, that sway through sunny hours, "Dreaming of moths that drink them under the moon; " These, Mr. Moorhouse has greatly loved, as did Brooke, and in English woods, he would hope we shall "see no enemy, but winter and rough weather." In this beautiful Kodachrome footage are preserved the byways, the little ways, the errant and individual ways through which wander the casual cows, the meandering motors, the clopping carts and the quiet English, themselves, while to right of them and left of them are "English unofficial roses." And there is "honey still for tea" in this English land, and people to enjoy it, unhurried and unflurried. Mr. Moorhouse has pictured a way of life by suggestion, because his scenes are almost all with few human beings, but he has pictured it sharply and triumphantly, even if tenderly. In this brief essay in film is the essence of "This royal throne of kings, this scepter'd isle, "This earth of majesty, this seat of Mars, "This other Eden, demi-paradise; "This fortress built by Nature for herself "Against infection and the hand of war; '"This happy breed of men, this little world; "This precious stone set in the silver sea . . . "This blessed plot, this earth, this realm, this England." Movie Makers, Dec. 1939, 609, 631-632.
---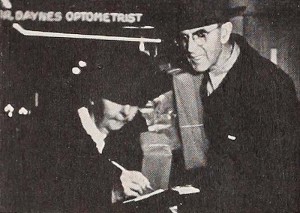 Date produced: 1939
Filmmaker(s):
Description:
"A delightful film of the home is A Greene Christmas, produced by Mildred Greene. Here is a record of a domestic Christmas that may well serve as an exemplar to other movie makers who are tempted to wander far afield. No startling new stunts in technique or effects of continuity are displayed, yet the film is so homelike, pleasant and sincere that it commands recognition as an achievement. Naturally, however, all departments which contribute to the completion of the film are more than adequately handled. The interior lighting, which resulted in perfectly exposed color shots in the familiar home settings, is noteworthy. Special recognition should be accorded the successful, well exposed shots of the subjects out of doors at night in one sequence. All the actors, members of her immediate family and friends, including the producer, were naturally and pleasantly shown, but the palm for outstanding characterization must go to Miss Greene's mother, who played the part of herself in a most delightful and unaffected way. The preparation of the color titles for this film deserves special mention because of their perfect exposure, fine backgrounds and outstanding arrangement of metal script letters. (Miss Greene tells about making A Greene Christmas in Stretching Christmas, in this number of Movie Makers.)" Movie Makers, Dec. 1939, 609.
---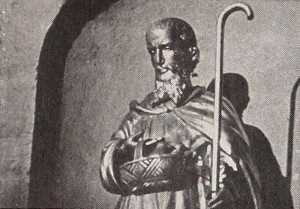 Date produced: 1939
Filmmaker(s):
Description:
"In L'Ile d'Orléans, Radford and Judith Crawley cross a bridge and come back. But they cross a bridge with a difference, because what they see and what they make us see on the other side of that bridge is the inner essence of a withdrawn people, who proudly conserve the memory of things past in the realities of things here. The Maxim Award winner opens a door into a region of Eastern Canada — the Island of Orleans — where old French and old Canadian folkways are lived placidly and with dignity. Actually, the camera crosses a very modern bridge at the film's beginning and returns over it at its end. But, once in L'Ile d'Orléans, in the hands of the two Crawleys, this Twentieth Century box of wheels and gears spins a tale of yesterday, even if it pictures just what its lens sees today. The landscape and the old houses, some of them there for more than two hundred years, set the decor, after which we come to the dwellers in this separate Arcady. They do, with a delightful unconsciousness of being observed, the things that make up their daily lives, and, when invited to take notice of the visitors, they do this with a fine courtesy that is the very refinement of hospitality. Mr. and Mrs. Crawley devote a liberal part of their footage to a careful study of home cheese making, in which camera positions and a large number of close shots turn what might have been a dull and factual record into something of cinematographic distinction. The highlight of the Crawleys' film is a leisurely and sympathetic watching of what is the highlight of life in l'Ile d'Orléans — the country Sunday. We see different churches, all of a general type, but each with its essential neighborhood individuality. Finally, one of these is singled out for an extensive camera visit. Bells ring and the country priest is shown with his gravity and solemn courtesy. The countryside comes to life with its church bound inhabitants who wind over the simple roads slowly yet purposefully and with the assurance of those who know that the land is theirs as it was their fathers'. With such pictures of everyday life, scored with appropriate music for double turntable showing, Mr. and Mrs. Crawley have etched an epoch, in a record which can stand on its own feet with good genre description in any art form. With not a single concession to sentimentality — as should be the case in honest work — but with a sure feeling for that which reaches out for the finer emotions, they have shown us what they found across the bridge. Here is personal filming at its best." Movie Makers, Dec. 1939, 608-609.
---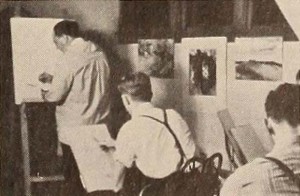 Date produced: 1938
Filmmaker(s):
Description:
"Builders of Tomorrow, produced by the Cinema Laboratory of Western Reserve University and filmed by Dr. James E. Bliss, takes one into the Cleveland School of Architecture at Western Reserve and shows the embryonic architects at work. The students are pictured studying the principles of design, drafting and in art classes. Architectural models are expertly filmed and with lighting and treatment that, in several cases, make them indistinguishable from actual structures and streets. The entire picture is interior color and the lighting is ably handled throughout." Movie Makers, Dec. 1938, 621.
---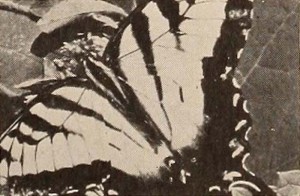 Date produced: 1938
Filmmaker(s):
Description:
"Technically superb macroscopic work marks the great part of the footage of Swamp Song, a color story of the insects found in the marshes and woods of the countryside, filmed by R. H. Unseld. Perfect focus and precise exposure distinguish the studies of insects, and it is not unlikely that they are the best of their type that have yet been filmed with an amateur camera. It is unfortunate that the story motif of this picture — a father and son wandering through the woods in search of insect types — is not better integrated with the extraordinary macroscopic footage. Nor is the technique of the titling on a par with the rest of the film. But the macroscopic insect scenes are truly astonishing, and such highlights as the invasion of a termite colony by a roving band of ants and a series of ultra closeups of butterflies are without parallel." Movie Makers, Dec. 1938, 621.
---
Total Pages: 189