---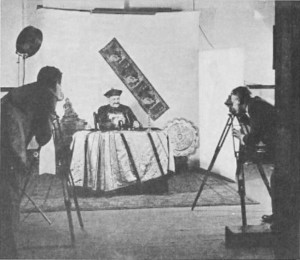 Date produced: 1930
Filmmaker(s):
Description:
Promotes the all-round activities of YMCA work and their relationship to character-building. Kenyon, a one-time YMCA athlete, has "fallen into evil companionship" and become addicted to cocaine. Under the control of Chinese underworld kingpin Chang Yat, he aids in the kidnapping of a white girl. Afterwards, he discovers his old "Y" pin and recalls the role of YMCA athletics in shaping his character. Seized with remorse, he overpowers Chang Yat and helps the girl escape. Later, Kenyon returns to the YMCA. (D.J. Duffy, condensed from "Y.M.C.A. Cinema Club Produces Smart Film," Toronto Daily Star, May 31, 1930, p. 30.)
Film was sponsored or co-produced by the Central Y.M.C.A. of Toronto, and written by the club's secretary, H.G. McKinley.
---
Date produced: 1930
Filmmaker(s):
Description:
"The construction of the POM (Pride of Montreal) Bakery in Montreal. Some commercial harvesting footage with baking at POM." (LAC description)
---
Date produced: 1930
Filmmaker(s):
Description:
"Amateur production. A man, Dent Harrison, falls asleep and dreams that the R-100 sails for North America from its base in England. Various long shots of the airship under way. After the mooring procedure is completed, S/L R.S. Booth, S/L E.L. Johnson, Capt. G.F. Meager and other members of the crew meet with the welcoming party led by Minister of National Defence, J.L. Ralston. G/C Stedman, G.J. Desbarats, Maj. Gen. McNaughton and officers of the U.S. Navy are also in attendance. Several civilians are also in the party. Harrison's "clone" visits with his "brother". Cut back to the airship and shots of repairs to damage sustained in a thunder storm over Trois-Rivières. Visitors climb into the airship in a high wind. The R-100 is shown leaving on its Canadian flight. View of the shadow of the ship on the ground and several shots from various distances, notably from Windrift, the summer home of the Harrisons at Lakeside, Québec. Aerials of Niagara Falls, Welland Canal, Toronto, a lake steamer, Kingston, Queen's University, Kingston Penitentiary, the Thousand Islands, with cuts inside the airship's gondola, with crew men silhouetted against bright windows. More aerial shots of Cornwall, the shadow of the R-100 on Montreal, Côte-St-Luc and Verdun. Various ground to air long shots and closer views of the R-100 in flight, of the airship moored to its mast at St-Hubert air base. Sequences on Dent Harrison talking to his "clone" as he edits his footage, projects it into the lens of the camera. The two have lunch and the clone departs. Shots of the R-100 leaving as seen fromn directly underneath. Cut back to Harrison waking up from his dream." (LAC description)
---
Date produced: 1945
Filmmaker(s):
Description:
"Production Credit: Director, Henry Sedziak; camera, Watson Balharrie
Cast credit: Hosts, Pete and Gertie Robertson; members of The Ottawa Ciné Club
Description: In far off Woodridge north of Ottawa, uninvited weekend guests invade a cottage and create havoc." (LAC description)
---
Date produced: 1941
Filmmaker(s):
Description:
"In this first Kodachrome colour film of the Ottawa Ciné Club, toys come to life. The projector shows a Mutt and Jeff cartoon to the partying toys. When the cock crows at dawn the toys stop. The film was shown accompanied by the music of Camille Saint-Saëns." (LAC description)
---
Date produced: 1939
Filmmaker(s):
---
Date produced: 1939
Filmmaker(s):
---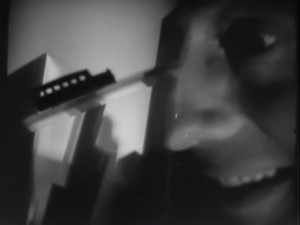 Date produced: 1927
Filmmaker(s):
Description:
"Robert Florey and Slavko Vorkapich created one of the most creative (particularly in light of its reputed $97 budget) and bleakest of the early avant-garde films. Photographed by Gregg Toland, who would become best known for his work on "Citizen Kane," the film is the time-worn tale of a movie extra (Jules Raucort) marginalized by one casting director after another until he's seen only as a number symbolically appearing on his forehead. The ultra simplistic sets and props, made of toys and cardboard buildings projected like shadows, help to create intricate German Expressionistic cityscapes reminiscent at times of "Metropolis." " National Film Registry.
---
Date produced: 1943
Filmmaker(s):
Description:
A Christmas story.
---
Date produced: 1942
Filmmaker(s):
Description:
"...a colored moving picture shows points of interest in Winnipeg.and some parts of Manitoba..."
---
Total Pages: 168