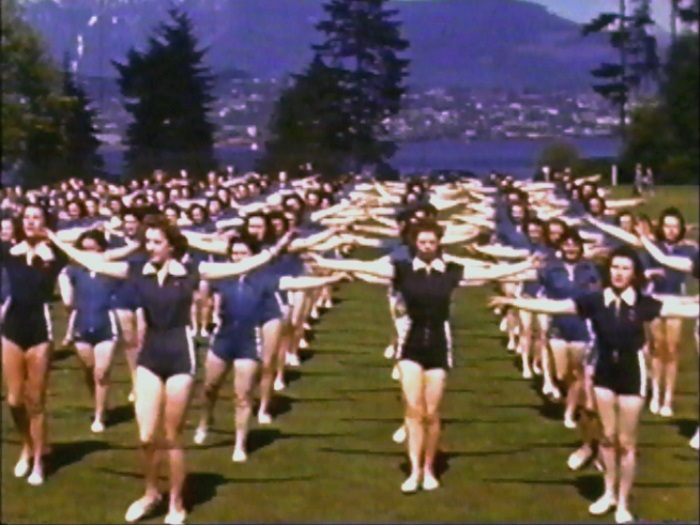 Identifier:
AAAA2443 (Source: http://search-bcarchives.royalbcmuseum.bc.ca/pro-rec-annual-display-may-4th-1945-under-direction-of-mrs-hilda-keatley)
Date produced: 1945
Country of Production:
Canada
Languages:
English
Length:
ca. 300 ft (11 minutes)
Format:
16mm
Colour:
colour
Sound Notes:
Silent
Awards/Recognition:
BC Archives list of titled amateur films.
Description:
"Young women at Brockton Point, Stanley Park, put on a display of Pro-Rec activities: massed calisthenics, costumed dancing, drill team (brief shots only), more massed calisthenics. The film concludes with a couple of men's tumbling runs." (BC Archives)

One of the regular displays or demonstrations put on in Vancouver by the Provincial Recreation Program ("Pro-Rec"), a community-oriented physical education program administered by the British Columbia Department of Education. Mrs. Hilda Keatley was the Provincial Supervisor for Women. The program operated in many BC cities and towns during the years 1938-1953. (D.J. Duffy)

The filmmaker has not been identified.
Resources:
Patrick A. Dunae, The School Record: A Guide to Government Archives Relating to Public Education in British Columbia, 1852-1946 (Victoria: British Columbia Archives and Records Service, 1990), 65-67.
Locations:
Stanley Park, BC (Filming)
Relevant Locations
Subjects:
Genre:
Form:
Tags:
Repository:
BC Archives, Royal BC Museum
---